Gary Neville says England have a DNA but need more flair and imagination
Gary Neville believes English players need 'more flair and imagination', but says there are still qualities to admire.
Last Updated: 23/07/13 11:36am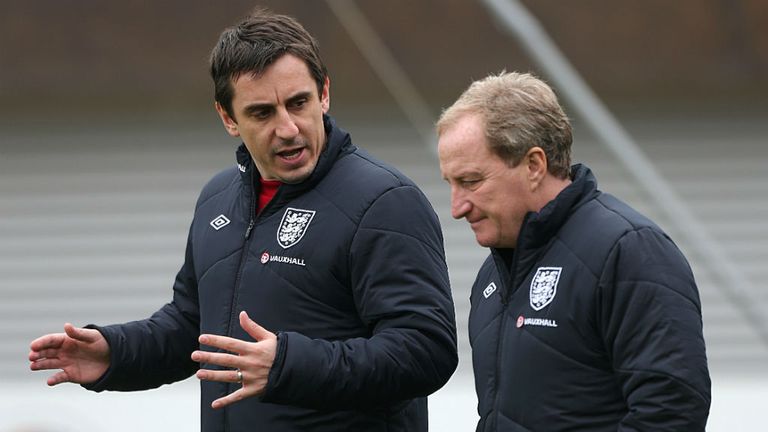 England's recent failings at the European Under-21 Championship and the Under-20 World Cup have again prompted questions about the future prospects for the senior national team.
Former Manchester United captain Neville is not concerned by claims that England have no sense of identity, but is aware of the areas which need improving after being impressed by Spain at the U20 World Cup.
"We've got to be careful," Neville, who is part of England's coaching staff, told The Times. "When people talk about the DNA of English football, we've got one. We work hard, we're organised, structured, resilient, hard to beat. Not bad qualities.
"Go back over the last 20 years. Last year Italy, even though you can argue they performed better than us, didn't beat us. Portugal in 2004 and 2006 didn't beat us. 1998, Argentina, we were down to ten men for 70-odd minutes, and they didn't beat us. In 1996, Germany didn't beat us. So let's not give away what we're good at.
"People say we don't have a DNA? Give me a break. We have a DNA as a country - British standards, the British legal system, solidity, structure, organisation, that never-say-die spirit.
"We're not arrogant, we're the first to take the mickey out of ourselves and be down on ourselves. We're trying to take the best of that and add a higher level of flair and technical ability."
He added of the Spain U20 side: "I was fascinated by this team. Not by their technical ability, but because of the incredible work ethic around their defending. France are in possession and the positions of the Spanish are absolutely textbook, a back four pushing up from the back.
"This is an Under-20 team and they've been coached how to defend. This isn't the Spain I came across when we beat them at the Under-18 finals in 1993 or again in 1996 or 2002. They've evolved. That's what we need to do - to have more flair and imagination."
However, Neville is confident that the calibre of English players is improving from a technical viewpoint, commenting: "We're producing a different type of centre-forward - Danny Welbeck, Daniel Sturridge.
"Our full-backs are no longer Gary Nevilles. They're Kyle Walkers, Ryan Bertrands, Luke Shaws, who think as wingers. We're producing a better quality of player."