Internationals: Frank Lampard keen to feature for England v Scotland
Frank Lampard insists he is fighting fit again and hopes to feature in England's friendly with Scotland on Wednesday.
Last Updated: 14/08/13 4:41pm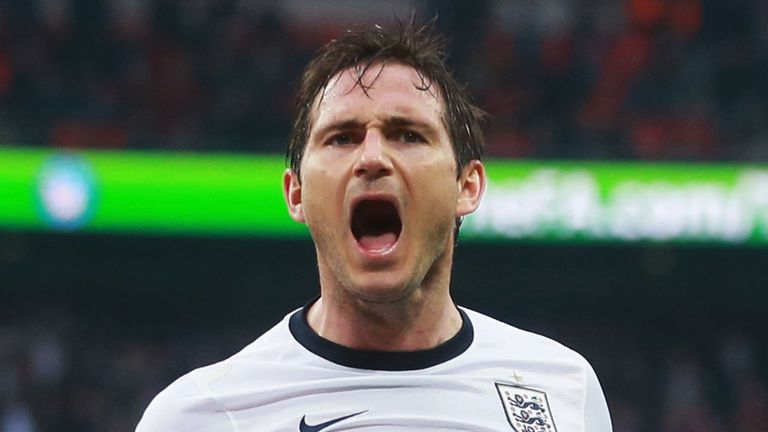 Lampard came off the bench for the second half of Chelsea's friendly with Roma in Washington DC on Saturday and fired home an equaliser from 20 yards, with the Blues going on to win 2-1.
The midfielder turned 35 years of age earlier this summer and had been struggling with an Achilles problem, but he now feels raring to go for the start of the Premier League season which sees Jose Mourinho's men host Hull on Sunday.
"There is no pain with the injury any more. I am feeling good," said Lampard. "I like to think I am a pretty fit bloke and will be ready for Hull.
"I have trained the first week of pre-season and now the last week too, and I have trained hard. I've looked after myself in between, so if the manager wants me, I am there and I am ready."
Lampard is not expected to play a significant role in the midweek action at Wembley but he is delighted to be involved in what he feels will be a memorable occasion, and hopes to win his 98th cap.
"I would love to take part at some point," he added. "And what a great game it is. I know people have moaned about when the game is, and that is understandable, but when you're playing against Scotland, what a fantastic game for us to play.
"It won't be a friendly, though. There will be that extra competitive edge, which is always nice. Rather than playing a side who have players you don't know too much about, there is a rivalry between us and the fans will love it too.
"I think it will be a good exercise - individually for fitness and collectively considering we have some important qualifiers coming up."
As he enters his 13th season with the Blues, Lampard insists he is not setting himself any personal targets. He has hit double figures for Premier League goals in the last 11 campaigns.
"I love to contribute but I won't be putting a number on how many goals I think I'll get," he added.
"Things have changed in the last couple of years but if I can still manage to chip in and be part of a successful team, I will be happy."