Steven Gerrard says Wayne Rooney is ready to play against Scotland
England captain Steven Gerrard says Wayne Rooney is hungry and ready to play against Scotland in Wednesday's friendly.
Last Updated: 14/08/13 11:02am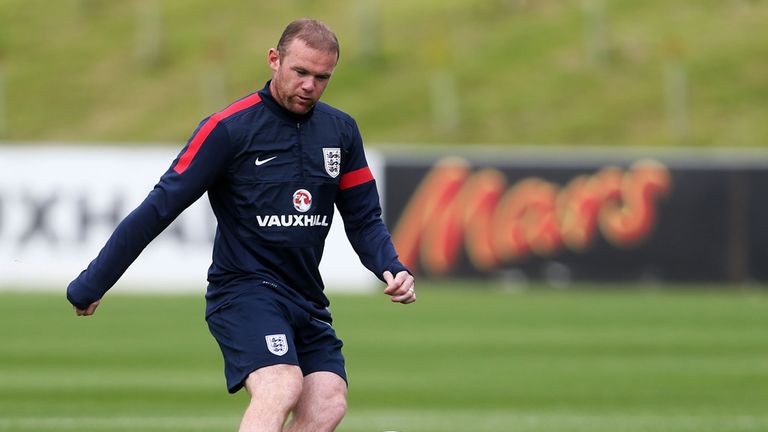 Gerrard will lead out his country for Wednesday's Wembley showdown and said that all the players are excited about the prospect of the first meeting with the Scots for 14 years.
The England captain told Sky Sports News: "He's the same old Wayne Rooney, he's been scoring goals, and he's ready to play. He's prepared really well, he needs minutes for his personal fitness and I'm sure he itching to start.
"His future is none of my business. It is all about how he is feeling for Wednesday's game. I'm sure he will sort out the other problems for himself.
"It's a World Cup year and we've got four very important World Cup qualifiers not too far away.
"We've got a big game against our local rivals so it's going off with a bang. All the players are excited and looking forward to an exciting year.
"We're expecting a quick start and a high-tempo game. They're going to be well up for the game. They want to beat England, we want to beat Scotland."
Another man who is the centre of transfer speculation is Luis Suarez, and Gerrard admits he is desperate for his Anfield team-mate to stay on Merseyside.
"If I can use my influence to try to make him stay, I will try to do that," he added. "For Liverpool to move forward, it's important we keep our best players.
"I really don't know what is going to happen with him but I'm really confident he won't be going to any one else in England."
Gerrard also shrugged off former England team mate Rio Ferdinand's claim that the current team lack a clear identity.
Ferdinand said: "We started to see something when Glenn Hoddle was in charge, a bit of an identity then.
"Since then, I don't think we've actually really seen an identity, where you could say, 'that's an England team'."
But, asked if he could see Ferdinand's point, Gerrard responded: "Not really. To be honest with you, I am not really interested in what Rio Ferdinand has got to say about this group of players.
"When you play for England, there is always a lot of opinions outside the group, especially in a World Cup year.
"There is going to be people voicing their opinions but, when we're inside, nobody takes much notice of what is being said on the outside.
"I think (this team) does (have an identity). I think we have a good team, some top players, and I am really confident we can prove it this year."