The England U21 team thrashed Scotland 6-0 and impressed Roy Hodgson
Roy Hodgson liked what he saw from the England U21 team on Tuesday night.
Last Updated: 14/08/13 6:55am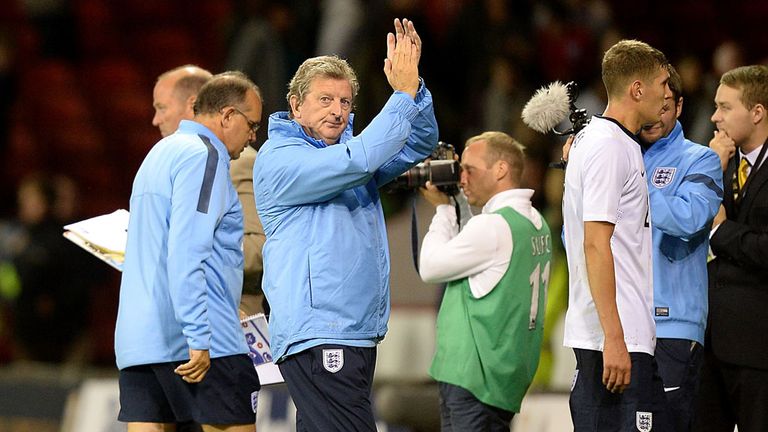 England boss Hodgson took charge of the U21 team on a one-off basis for a friendly against Scotland at Bramall Lane and oversaw an impressive 6-0 success.
Nathan Redmond, Raheem Sterling, Connor Wickham, Ross Barkley, Jonjo Shelvey, and Tom Carroll were all on target and Hodgson liked what he saw from the whole team.
He also thought the performance disproved the suggestion that there are not very many exciting youngsters in the English game.
Hodgson said: "Certainly it has put the statements that English football has no talented players, and that we have nothing coming through, to bed.
"Hopefully a lot of people who have made the bold statements will have seen the performances, and they will struggle to tell me that some of those boys out there have got no future, no technique and no ability.
"Without a shadow of a doubt, some of them are pushing for a place in the senior squad.
"They really did take their chance with both hands and a lot of those players would not have looked out of place in the senior team.
"I've worked with them for the last two days and I have been particularly impressed with the quality of technique, desire and ambition they have shown.
"They've made a rod for the senior players' backs and maybe that's not a bad thing.
"(FA chiefs) Dan Ashworth and Sir Trevor Brooking are very keen that the type of football we played tonight is the type of football we want to see England teams playing."
Midfielder Nathaniel Chalobah unfortunately had to be stretchered off just before half-time after a Tony Watt tackle.
Hodgson said: "It was a nasty one and we feared for him but we think it's a kick to the side of the knee.
"It will be a sore one but we don't think there is any ligament damage or anything there."
Scotland U21 boss Billy Stark said of the match: "It was a chastening experience.
"I have been in football long enough to know that, however you approach a game, you can never be absolutely sure, but I never saw that coming."