Steven Gerrard suggests 2014 could be his final year in England jersey
National skipper Steven Gerrard has hinted that the 2014 World Cup could mark his farewell to the England team.
Last Updated: 14/08/13 8:24am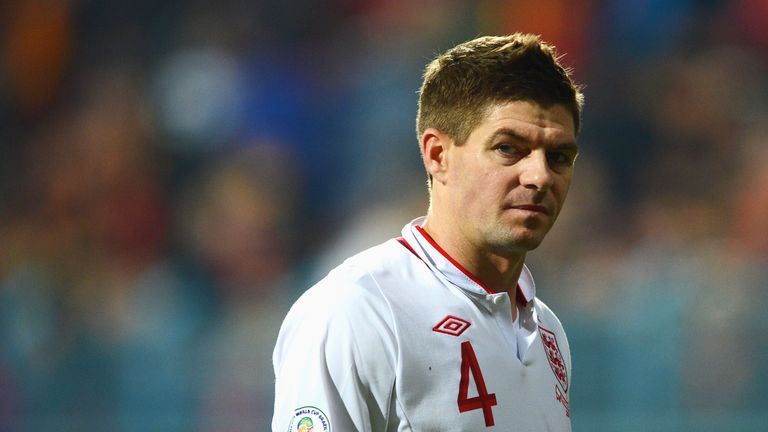 The Liverpool midfielder says he has to 'assume it's my last year' as, at 33 years of age, he does not expect to grace another major international tournament.
Were he to lead the Three Lions to Brazil next summer, and then through another shot at global glory, he would bow out after 14 years on the international stage and with well over 100 caps to his name.
Filling his boots would be no easy task, but Gerrard believes England have a ready-made replacement within their ranks in the form of Arsenal's Jack Wilshere - who is back to full fitness and ready to earn his eighth cap in Wednesday's friendly clash with Scotland at Wembley.
On his own international future, Gerrard said at a press conference: "I've got to assume it's my last year. I can't assume I'm going to be here in two or three years' time.
"I've got to make the most of every single game. For all I know, I might be out of the picture in a year's time. I want to make the most of it."
Gerrard added on Wilshere, a man he considers to be his natural successor as England captain and one who is capable of shaking off the injury troubles which have held him back over recent years: "Jack is so good I am sure when he gets to my age he will be sitting in my position with the armband on talking about another 100-cap player.
"I've got no doubt he can (be the man who succeeds him). It's his quality, his example in training every day. He wants to learn, he loves England. He ticks a lot of boxes when it comes down to other players following his lead.
"I've been in a similar position, I missed a World Cup and many caps. I'm really paranoid about putting too much pressure on any player but he is that good there is nothing for him to worry about."