International friendly: Roy Hodgson hails England hero Rickie Lambert
Roy Hodgson says Rickie Lambert deserved his dramatic debut England goal after the enthusiasm he demonstrated this week.
Last Updated: 15/08/13 6:58am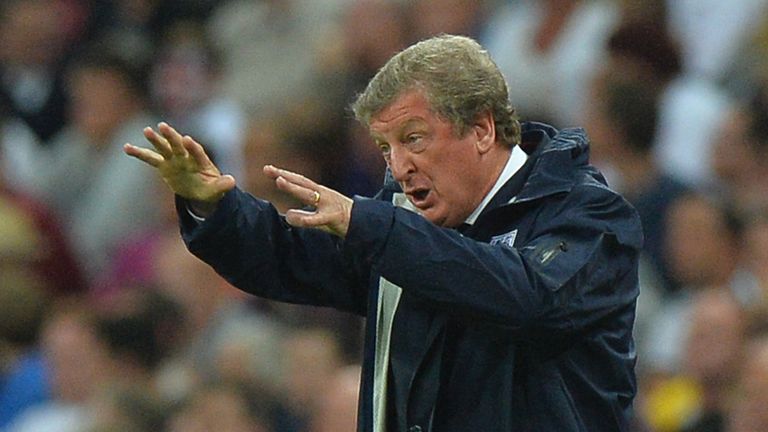 Southampton striker Lambert came off the bench midway through the second half of their friendly against Scotland at Wembley, and within three minutes he scored the winning goal as England twice came from behind to win 3-2.
Hodgson said: "He's been so enthusiastic. He's been like a young boy with a new toy ever since he joined us.
"We believe in him. Funnily enough, when he came on the first thing Gary Neville said to me was that he's going to get us a goal. He almost got us three! He certainly got us a very good one and was very close to two others.
"I'm deighted for him. He's a man who's worked very hard for his chance and done it the hard way. Now he's crowned his debut with a goal.
"I think the 15 Premier League goals he scored last season told us a lot. Technically he's a very good player, and he's got great composure in front of goal as we saw today.
"I'm happy for him, and happy that his goal gave us the victory."
Hodgson told Sky Sports News, that he was happy with the level of opposition that Scotland provided.
"Scotland gave us exactly type of challenge and level of opponents we were looking for," he said.
"We made our task harder by going twice behind, but in some ways that made the victory even sweeter knowing that we can come from behind."
Hodgson also revealed that he thought Wayne Rooney looked so good during the first half that it persuaded him to give the Manchester United man an extended run-out.
"Our first thought was not to risk him for those additional minutes but he was
looking so fit, chasing hard and working hard," he said.
"But it went well because he's fit and raring to go.
"Under normal circumstances, you wouldn't be expecting a player to be making
his first appearance in mid-August against Scotland.
"But David Moyes and the people at United have been fantastic.
"They've almost welcomed the fact he wanted to play and I wanted to play him and he got 67 very valuable minutes."