England midfielder Frank Lampard admits early criticism has inspired him
Chelsea midfielder Frank Lampard insists the pressure he received at West Ham has helped shape his career.
Last Updated: 09/09/13 9:32am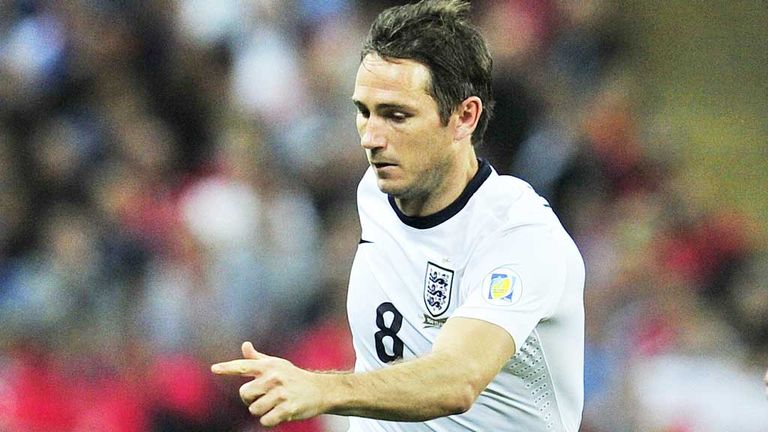 The 35-year-old is expected to become the eighth England player to reach 100 caps in Tuesday's crucial World Cup qualifier with Ukraine in Kiev.
The century will be another milestone in an impressive career that has seen Lampard win the Champions League, Europa League, three Premier League titles and four FA Cups.
But accusations at a West Ham supporters rally that he was only at the club because of his father - Frank senior, a former Hammers player and then on the club's coaching staff - from the relative of a player who had been released from Upton Park, still rankles with Lampard.
"I'll never forget it," said Lampard. "Everyone has their opinions. He voiced them at a young kid. I thought that was wrong.
"I know exactly who it was but there are no individual gripes. He's probably quite tough anyway being from east London.
"But some people do forget it was tough, or they try to change history and say it wasn't like that.
"It was. I had the nepotism one thrown at me regularly there and as a kid I found it quite hard to deal with. Certainly that day I did."
Any idea Lampard was getting an easy ride because of his dad was misguided anyway. Even today, Frank senior is never scared of offering an opinion.
"He won't praise me for the big things I do but he will have a go at me for not tracking a runner or doing the basic dirty work," said Lampard.
"He will ask me if I have been doing my sprints in the week. I am 35 for God's sake. I just humour him nowadays.
"Dad put that work ethic in me, though. As a youngster, he always made me very aware of my weaknesses. He would go on about my pace, getting in the box, scoring goals.
"He let me know there was no easy way to get there. It was extra runs, extra hours practising shooting and finishing. It became ingrained in me.
"In my younger years, he probably bullied me into it a bit.
"I didn't always like it but I can't thank him enough for it now."
Lampard is also hoping his international career does not grind to a halt if England fail to make it to Brazil.
"I would hate that," said Lampard. "I enjoy being with this group of players. I enjoy the manager. I enjoy playing with the young kids in the team and playing alongside people like Steven Gerrard and Ashley Cole, who I have played with for a long time.
"It will certainly be something I wouldn't want (to get knocked out).
"England want to get to the World Cup. You (the media) want to get there. The fans want to get there.
"I wouldn't want to go out like that, that's for sure."