England striker Rickie Lambert prepared for red-hot Ukraine reception
England new boy Rickie Lambert admits nothing will prepare him for the experience that awaits him against Ukraine.
Last Updated: 09/09/13 9:35am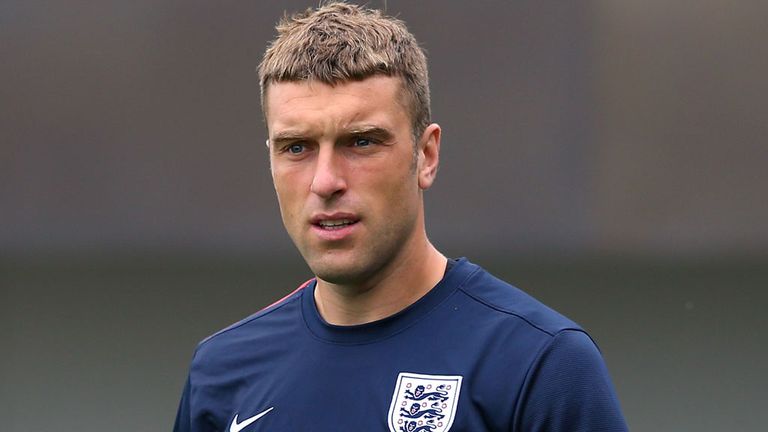 Fifteen months ago Lambert was watching England play Ukraine on the television with his friends, but on Tuesday night he is expected to lead the line for the Three Lions in Kiev's Olympic Stadium.
The 31-year-old, who scored with his first touch against Scotland last month, set Danny Welbeck up twice and also got himself on the scoresheet with an opportunistic header as England ran out 4-0 winners against Moldova at Wembley last Friday.
The fact that the performance came 10 years after he was an unused substitute for Stockport at Port Vale just shows how far the former Blackpool, Rochdale and Macclesfield striker has come.
Even though the miserable midweek fixtures at the Moss Rose and Edgeley Park have made him into the player he is today, Lambert has never known what it feels like to walk out in front of a hostile crowd at a 70,000-capacity stadium before.
"I've never done that before in my life. It's going to be completely new to me," Lambert said.
"I've played at all the Premier League clubs away, and for me personally I'm never going to experience anything like that."
Pundits were quick to jump on Lambert's selection for the Scotland game as a sign of the lack of squad depth at international level.
But the Southampton hit-man has proven in the last two games that he can cut it on the international stage.
Lambert hopes all the talk of his stint working at a beetroot factory 13 years ago will now subside and give way to proper respect for his abilities as an England striker.
"I was a little bit annoyed with all the talk about that, but I understand that's my life, that's my past, so I understand people are going to bring it up," added Lambert.
"It's good to show to people that it can happen. I just want to impress."
That said, Lambert is still struggling to come to terms with his rapid rise through the ranks.
"I scratch my head and think 'I'm playing for England', it's very surreal," the Southampton striker said.
"I do it all the time. I'm playing with the players I've looked up to all my career.
"It's beyond any imagination what's happening at the minute, but I'm trying to stay cool, I'm trying to do what's important, and that's trying to do well when the kick-off starts."