World Cup qualifier: England boss Roy Hodgson pleased with point against Ukraine
Roy Hodgson felt England's draw with Ukraine was a 'fair result' and he was more happy with how they played in Kiev.
Last Updated: 11/09/13 7:56am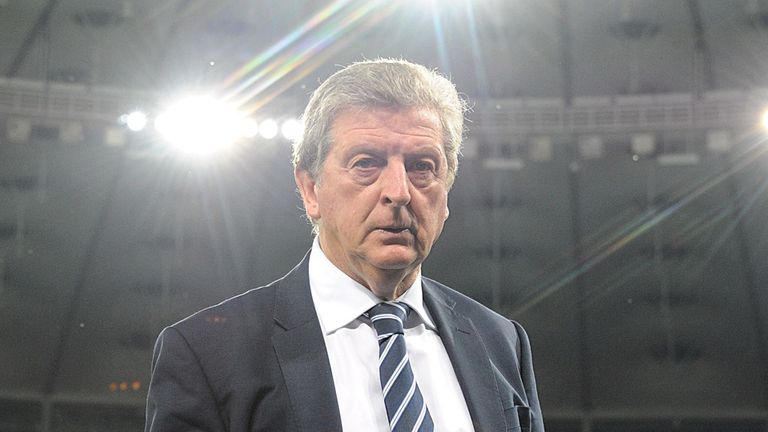 The Three Lions rarely threatened in the Olympic Stadium, with their best chance of the match coming in the final minutes through centurion Frank Lampard.
The point means that England remain on top of Group H in their World Cup qualifying campaign and know that wins against Montenegro and Poland in their final two matches will seal their place at the World Cup finals.
"I thought it was a fair result, we did very well, especially in the first-half and we had clear control of the game and could have obviously won it in the last minute with Frank's header, what a chance," Hodgson said.
"But Moldova and this game are two were very different games, there were 70,000 people here, it was a big test for the players.
"We have lost seven players from the original squad so a lot of players come into the squad this time who are not normally there and not used to this level of performance and pressure.
"So we have got be more than satisfied with the result against Moldova and now the result here, especially as we gained the result without riding our luck in any way, we gained it because we were very good defensively.
"Had we shown a little more composure in the final third or had someone like a Rooney or Sturridge available, who knows we might have even got the goal we needed."
Hodgson admits England did not really push for the winner, but he was happy with their tactics.
"I don't think we were that adventurous, but it was for them to be adventurous, not us," he said.
"We had to make sure we controlled them and in the first half particularly there were a few interesting situations in the final third, but as I said perhaps we didn't have the quality to make that count.
"On the other hand if we had thrown caution to the wind and tried all-out for the winner and we came out with a 0-1 which would have virtually ended our chances of finishing top of the group, I don't think we would have got any thanks for that."