Belgium target Adnan Januzaj for international call-up
Belgium boss Marc Wilmots intends to meet Adnan Januzaj after the teenager turned down a call-up to the national team.
Last Updated: 08/10/13 10:14am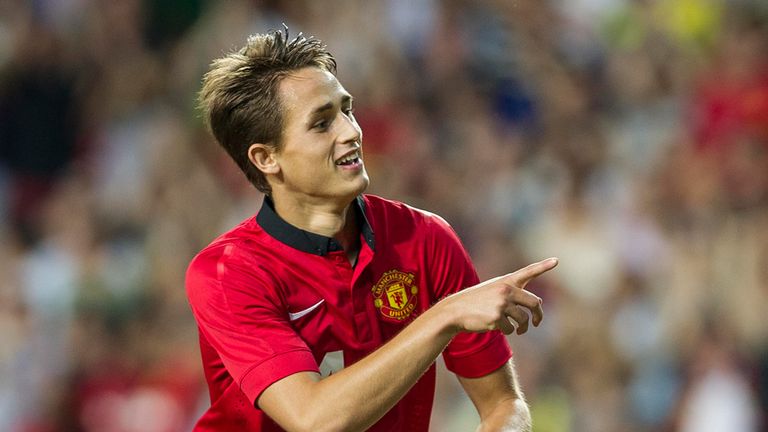 The 18-year-old, whose family left Kosovo for Belgium before he was born, is eligible to represent a number of different countries on the international stage.
Wilmots had hoped Januzaj would be part of his squad for the World Cup qualifiers against Croatia and Wales, but was told the player had not yet made a decision about his international future.
Reports suggest he may be waiting to see if Kosovo will receive official recognition from FIFA.
Quoted by the Daily Mail, Wilmots - who also believes Januzaj is close to signing a new contract at Old Trafford - said: "This was the first time I have tried to include him in a squad, because I wanted to send him a clear message.
"Unfortunately, I had a very quick response from England, when Manchester United called me to say the player felt he was not ready to make a choice about his international future.
"I respect his stance. Every player has the right to make his own choice, and I will not attempt to make any sort of ultimatum to him. But I do intend meeting Adnan and his entourage to find out for myself exactly what their thoughts are. You cannot force a player to choose a country. It has to come from his heart.
"Clearly, when you have a player of his technique and ability, the door to the national team always stays open."
It is thought Januzaj wants to establish a senior club career for himself before making a final decision.
Talks about an extension to his United contract have been ongoing since April with some fearful of losing the young midfielder as they did with Paul Pogba, who has made such a big impression at Juventus.
But teammate Phil Jones - who saw the youngster make a stunning two-goal full debut at Sunderland - believes the teenager will take all the attention in his stride.
"He is a level-headed guy. He knows what he has to do. He has to keep his head down.
"He is going to hit the heights though because that was some debut.
"The second goal was particularly impressive. If Gareth Bale gets one of those everyone is raving about it."
Sky Bet have priced up the 18-year-old's international future amid questions over who he will choose to represent, making Albania the odds-on favourites followed by Belgium (11/8), Turkey (8/1) and Serbia (10/1).
England are considered the 16/1 outsiders due to the understanding that he would have to wait five years under FIFA statutes, which states any player must live "continuously for at least five years after reaching the age of 18 on the territory of the relevant Association".
The odds are in contrast to the hopes of skysports.com readers, with 45 per cent voting in favour of seeing the midfielder representing England, while 40 per cent would like to see him play for Belgium.
In a poll on skysports.com, a meagre eight per cent say they would like to see him choose Albania, which is reportedly his favoured choice due to his father's influence.
Sky Bet Football Trader Chris Spicer said: "Regardless of whether he would be interested in playing for England, we're sceptical of the chances of Januzaj opting to wait five years before beginning his full international career.
"Having shown such immense potential it is understandable that he's going to be in high demand by both clubs and countries, but we basically see it as a straight battle between Albania and Belgium."