England skipper Steven Gerrard backs Joe Hart ahead of Montenegro World Cup qualifier
Steven Gerrard has given his full backing to Joe Hart, who has been criticised for his recent performances for Man City.
By Graeme Bailey - Tweet me: @graemebailey
Last Updated: 08/10/13 9:26am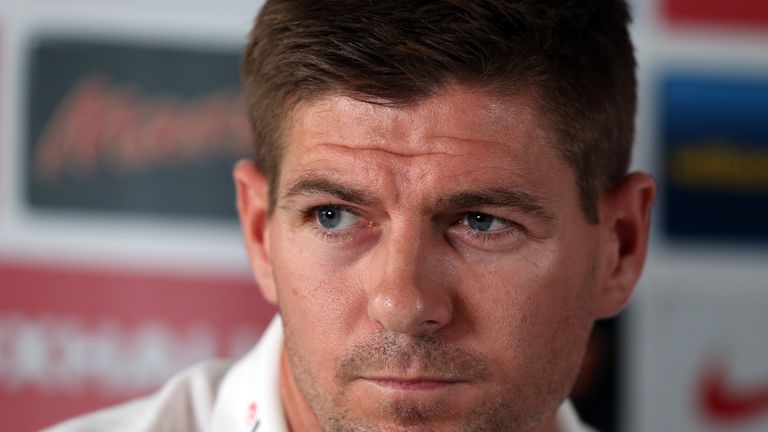 Ahead of England's crucial World Cup qualifiers with Montenegro and Poland, Gerrard insists there is nobody he would rather play in front of than Hart.
"Being in form, being out of form - it happens but Joe has set such high standards and put in world-class performances that people expect that all the time which is impossible," Gerrard told Sky Sports News.
"At the moment he is going through a bit of a tough time, but he has got the character and ability to play his way through it, for me when I have Joe Hart behind me I feel safe.
"I feel good and for me I just want to echo what the manager said and back him and I have no doubt Joe Hart is a top keeper and I hope he is behind me for the next two games."
Gerrard also feels having both Daniel Sturridge and Wayne Rooney available is a huge boost, after the pair sat out the last two qualifiers.
"Speaking to Daniel there was no one more frustrated than himself not being available for England, he was really frustrated he had the niggle in his quad but that has cleared up," he said.
"Having worked with him on a daily basis with my club, I know how good he is and I can understand why everyone is frustrated that he hasn't had a run of games in an England shirt, but for me he is a top player and even better than I thought.
"I had seen signs and potential at Manchester City and Chelsea, but to work with him daily and the form he is in at the moment, the stage is set for him to produce for a long time at this level and I am sure he is going to put in many top performances and get tonnes of goals as that is how good he is, he is top drawer.
Boost
"It is a huge boost for us to have Rooney and Sturridge available, they are going to be key players for us in unlocking the defence.
"If you have Wayne Rooney fit and available on good form and smiling, there is every chance you are going to get two top performances and usually if Wayne is in that form and playing well then the team he is playing for, whether it be Man United or England, don't lose many matches."
Gerrard has also reassured England fans the team will not freeze in their vital World Cup qualifiers against Montenegro and Poland - and is convinced they will be going to Brazil next summer.
"I think the hurt of not qualifying under Steve McClaren, was probably the lowest moment of my England career," he said.
"I think you have to try and forget how big the games are when they start and you have to try and put our game plan in place and do as our manager asks.
"The important thing is not to freeze, and put too much pressure and over-hype the game when your out there because you will freeze and won't perform and that is when we will be faced with problems, if we relax and play out stuff we have the players and the squad to get two important wins."
Gerrard is one of just eight players to captain England on more than 30 occasions in the post-war era - and he is currently ranked as sixth most successful in terms of win percentage.
John Terry tops the list with 65 per cent, ahead of Bobby Moore, David Beckham, Kevin Keegan and Billy Wright.
If England win their final two World Cup qualifiers Gerrard would move up to third on that list.
Much focus will be on the goalkeeper position in the build-up to the qualifiers but John Ruddy has joined his skipper in backing Hart and believes recent criticism of the Manchester City keeper affects England's chances of success.
"Joe's the England number one. Rightly so," Ruddy said. "The way he's performed over the last few years he's deserved it and he's never let England down.
"I've been in situations before when people are questioning you. It's never nice.
"Without being too patronising, I felt sorry for him.
"He doesn't warrant that sort of attention. He's a top-drawer goalkeeper, one of the best in the world without a shadow of a doubt.
"It's the way the media is - you build people up so far and then chop their legs away when they get too high.
"Unfortunately that's the way the English media goes. Until that stops we might struggle to go anywhere in competitions."