Jack Wilshere ready for his biggest-ever England match against Montenegro
Jack Wilshere is ready for his biggest-ever England match against Montenegro at Wembley on Friday night.
Last Updated: 11/10/13 5:08pm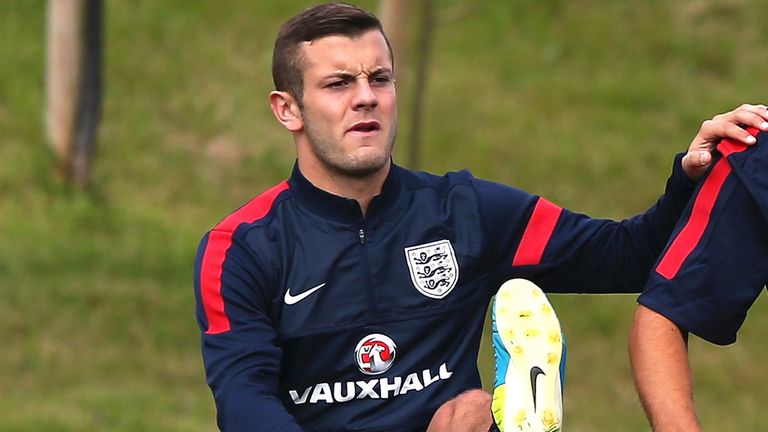 England also face Poland at Wembley next Tuesday and they need to win both matches to guarantee World Cup qualification.
Wilshere is confident they have the firepower to do so, telling Sky Sports News: "Ukraine was a tough game, my biggest to date, but these next two games will be another step up in pressure, no question.
"It has not surprised me how hard the campaign has been. International football is tough.
"I know a few of the Poland players from Arsenal and they will not give up easily, Montenegro are the same. It is in our hands now, and we have to get ready for it."
While his Arsenal team-mates Theo Walcott and Alex Oxlade-Chamberlain have been ruled out through injury, Wilshere believes there is more than enough experience in the squad to get the job done.
"When we've got players like Steven Gerrard, Frank Lampard and there have been big tournaments and qualifiers, that will help us," he added.
"As a young player, I grew up watching those two - Gerrard, with his range of passing and Lampard's goals record speaks for itself.
"We don't take notice of being unbeaten. We can be unbeaten and not go to the World Cup. We've got two big games coming up. That's the way we look at this.
"We do not want to think about losing. We are focusing on these games, it is in our hands.
"You have to take the game to teams at home. If we can get a few goals, we will be on the plane."
Wilshere is confident that England have the strike-force to score the goals which will secure Roy Hodgson's side a place in Brazil.
"We have got Sturridge and Rooney back which is going to be massive for us as you want your best players available," he continued.
"Rickie Lambert has done a great job. He scored a couple and did well in Ukraine which was a difficult place to go and be up there on your own and do the job he did, he did really well.
"We have got Defoe as well who can score from any position and Danny Welbeck as well who is looking sharp. We have got a good mix there and it can only be helpful for us."
Meanwhile, Wilshere is hoping a line can now be drawn after he admitted making a mistake by smoking a cigarette.
The 21-year-old was photographed smoking outside a London nightclub last week, with Arsenal boss Arsene Wenger later criticising the England international.
Wilshere said: "I've learnt that you've just got to concentrate on your football.
"You're a footballer at the end of the day and when it comes to the weekend you've got to be ready.
"Players and young people make mistakes and I made a mistake.
"I spoke to the boss (Wenger) and we sorted it out and he put me in the team on Sunday and hopefully I repaid him with a goal so hopefully it's all done now."