World Cup qualifiers: Stevan Jovetic says Montenegro aren't scared of England
Stevan Jovetic believes his Montenegro side shouldn't fear England ahead of Friday's World Cup qualifier at Wembley.
Last Updated: 09/10/13 10:52am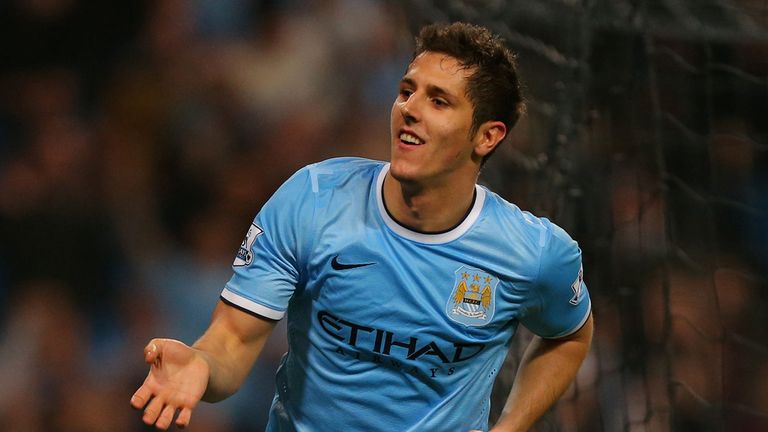 Group H currently sees England top with 16 points, however, both Montenegro and Ukraine, who face Poland at home on Friday, trail by a point.
Jovetic is not fazed by the challenge of playing at Wembley and is confident that his team can qualify for the World Cup in Brazil for the first time, hoping that England will buckle under the pressure.
"England are the favourites because they have so many good players and they are a huge nation, but in three games we have shown we can compete with them," Jovetic is quoted in the Daily Star.
"I think they have more pressure than us because they are expected to win - and expect to win. The fact that we have drawn three times with England gives us confidence for this game and the fact we then have Moldova at home."
Despite being underdogs for Friday's match, Jovetic is determined to fulfil his World Cup dream and insists that the group standings will not be decided until the final whistle on Tuesday.
He added: "England have us and then Poland. I think it is going to be a big fight to see which country goes through.
"For us it means everything to get to the finals of the World Cup or European Championship because we are such a small country.
"It is important not just for football reasons but also for the prestige of the country."
Jovetic's strike partner Dejan Damjanovic echoes his team-mate's views that they should not be scared of England and believes that the Three Lions are not a great side.
"England have great players, but I don't think they are a great team," said Damjanovic in The Sun. "I don't feel like they breathe like one. We are just opposite and maybe that could be our chance."
South Korean based Damjanovic reckons England could be in danger of complacency and that he expects them to underestimate Montenegro.
He continued: "They will not admit this, but I am sure that they think 'we are going to beat them without problem, then we beat Poland and go to the World Cup'.
"This is a big game for us. We completely take the role of underdogs because we are far from a full squad.
"But we will not come to Wembley waving a white flag. Miracles can happen - only if you believe."