World Cup qualifiers: England can't let nerves derail Brazil bid, says Jeff Stelling
England should qualify for the World Cup, says Jeff Stelling. But don't ever write off Poland...
Last Updated: 11/10/13 7:10pm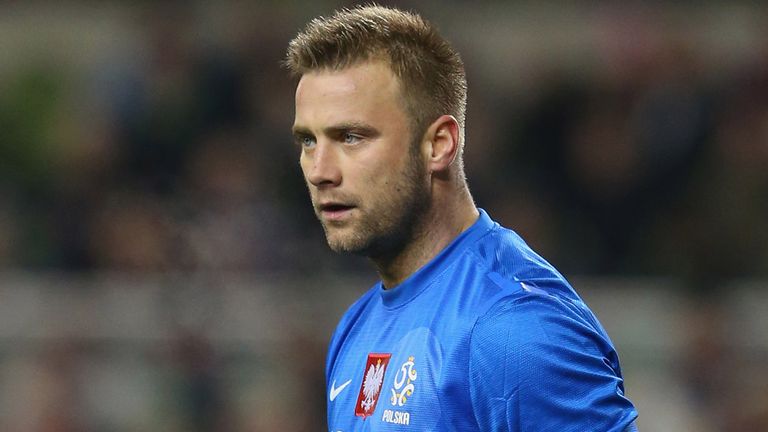 Roy Hodgson's men can book their place at Brazil next summer by beating Montenegro and Poland in the coming days - a feat they should achieve, particularly given Montenegro's injury problems.
But anyone old enough to remember Jan Tomaszewski's heroics in goal for Poland some 40 years ago won't be taking anything for granted and Waldemar Fornalik's current crop of players would seem to pose the far bigger threat of the two teams.
Tomaszewski's performance earned Poland the draw they needed to qualify for the 1974 World Cup at England's expense so I'm sure every fan will be hoping that Artur Boruc isn't going to be Tomaszewski this time around, because - believe me - he's good enough.
Settle
Players of any level are bound to be nervous going into two games they are likely to have to win to achieve their goal, but what makes this week much more edgy is the enormity of the prize at the end.
It's not only a place in the World Cup finals that is at stake, but a place at a World Cup finals in Brazil.
Some of the players won't get another opportunity to play on the highest stage and Hodgson might not get another chance to manage at a World Cup if we miss out this time around.
So it will be important that the team settles down quickly in both games (but particularly on Friday) and plays some nice football because that first goal could be make or break.
The last thing anyone wants - players, management and fans alike - is another nerve-wracking night at Wembley that ends in tears.
Developing
England are top of Group H but it hasn't been an easy road - we've played pretty poorly at times during the qualification process, the second half in Montenegro being a particularly low point; England were fortunate to come away with a point from that game.
Overall, I'd say we've played ok (particularly at home) without being exceptional; the fact that we haven't already secured qualification is a fair reflection of where we are.
A lot of young nations, like Montenegro, have made huge progress in terms of qualification in recent years and their football is developing apace while we're having to run just to try and keep our position in the pecking order.
I don't blame Roy Hodgson at all - I think he's done as well as can be expected with the material available to him. Has he overlooked anyone who could have made a difference? I'd say 'no'.
Solid
I was intrigued to see that Jamie Redknapp selected Andros Townsend in his first-choice XI to play Montenegro.
Now, I'm happy to admit that Jamie knows more about the Tottenham man than me having played so well for his Dad last season and I have to say it's a brave idea, because without Theo Walcott you need someone whose pace can pose a threat.
But I would be surprised if Townsend starts because I think we'll look to go with a formation that is a little more solid than Jamie's 4-2-3-1 - plus it would be a massive gamble in what is one of the biggest games in Hodgson's managerial career and Roy doesn't strike me as a real gambler.
I think there should probably be a role for Jack Wilshere, even if his form has been somewhat indifferent this season.
We know that these are two games we are most likely going to have to win; what is absolutely certain, however, is that these are games we can't afford to lose.
There's no question - and it has been a while since we've said this - that our strength now is going forward.
We mustn't get carried away because Wayne Rooney hasn't always been at his best for England recently and Daniel Sturridge needs to prove that he can produce the same level of performance for his country as he has done his club. Neither of those is an absolute given, so we shouldn't get carried away.
Personally, I would love to see Rickie Lambert start, purely on the basis of what we've seen in the last three internationals but he will almost certainly be on the bench and come on if we're in a little bit of trouble.
Jeff's Gem of the Week
It was a very easy choice this week - the honours go to Hartlepool, for their 4-1 win away at Mansfield, who were in the top three on the back of their best run as a Football League side. They'd gone 14 games unbeaten at home whereas we're a side that at the start of the season were being lampooned because we couldn't score goals, so it was a fantastic performance from what is an exceptionally young team. Hartlepool scored one goal in the first six games of the season; in the last seven games we've scored 16, so I think it's fair to say that Colin Cooper is getting it right! Our reward for beating the third-from-top side away from home last week is an away trip to the side that is now third top - Exeter. So it is going to be tough to repeat the feat to say the least, but in a season of ups and downs I'm delighted to say that this result was a real up.