World Cup qualifiers: Roy Hodgson defends Jack Wilshere in wake of England row
Roy Hodgson has defended Jack Wilshere in the wake of his eligibility comments and insists the row hasn't affected him.
Last Updated: 10/10/13 7:14pm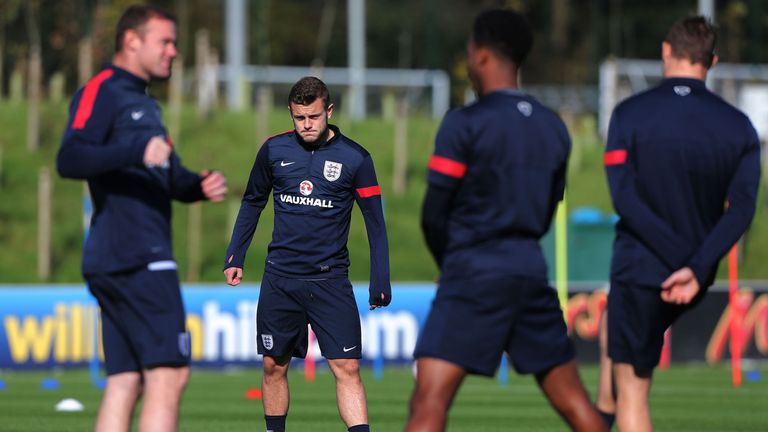 Arsenal midfielder Wilshere stated earlier in the week that only English players should be allowed to play for their country after it was suggested the FA might try to persuade Manchester United's Belgian youngster Adnan Januzaj to represent England.
But Hodgson insisted the matter was not a big issue and is convinced it will not affect Wilshere's performance if he is selected to play in Friday's crunch World Cup qualifier with Montenegro at Wembley.
"First of all I think his comments, if not misunderstood, were translated in a way people wanted to translate them," said the England head coach.
"People are always complaining that players don't have an opinion or that they say nothing worth listening to, so I don't think it's quite right to criticise someone for having an opinion.
"The subject matter is worthy of debate and, at the end of the day, it will be a policy decision taken by the FA.
"From my point of view, it hasn't affected Jack. I think he just shrugs it off.
"He's put behind him the unfortunate furore over his quotes and it's not affected him one bit on the field.
"I think England will get a lot out of him in these next two games and for a long, long time to come."
Captain Steven Gerrard added: "To be fair to Jack, he's given a very patriotic answer. He loves England and I don't think he's meant to intentionally disrespect anyone or any other sport.
"If players become available through FIFA rules, then it's only right that the FA look into it. We need to try and gain every advantage we can, and make the England team as strong as possible."
Hodgson, meanwhile, refused to be drawn on his team selection for Friday's showdown.
Victory against Montenegro followed by a win over Poland on Tuesday would guarantee England's place at the 2014 World Cup in Brazil.
But Hodgson would not reveal the make-up of his team, with Wayne Rooney, Daniel Sturridge and Danny Welbeck all battling for starting berths if the manager decides to adopt a positive approach to the matches.
Hodgson did confirm he will have a full squad to choose from, though, after all 23 players trained on Thursday.
"We've got a fully-fit squad of players," Hodgson said in his pre-match media conference.
"It's not only the strikers I've been impressed by. The whole squad has had a very good week's training. I'm just happy the game will come along tomorrow night. We feel ready for it.
"I haven't named the team yet so I can't make any comments before the start of the game (on individuals), but it's nice to see a player like Daniel Sturridge come into the squad and be so comfortable at an early stage.
"It's also nice that so many strikers come into this game having scored goals for their clubs."
Hodgson remains confident England can secure their place in the World Cup and revealed the mood in the camp is upbeat.
"We've never discussed not qualifying within the camp; we are convinced that we are a good team, we are convinced that we are good enough to qualify and with two home games to come we are convinced that we will do the job," he said.
"Words like fear or anxiety or concern haven't really crossed our minds or certainly haven't crossed our lips and I've been very impressed by the quality of training.
"I know that we need to deliver, I know we will deliver and I'm convinced tomorrow night you will see a very, very good England team.
"There will be lots of good teams that won't get to Brazil next year but I'm convinced it won't be us."