World Cup qualifiers: Montenegro will not be at full strength on Friday
Montenegro are set to field a weakened side in their crucial World Cup qualifier against England on Friday.
Last Updated: 11/10/13 7:11pm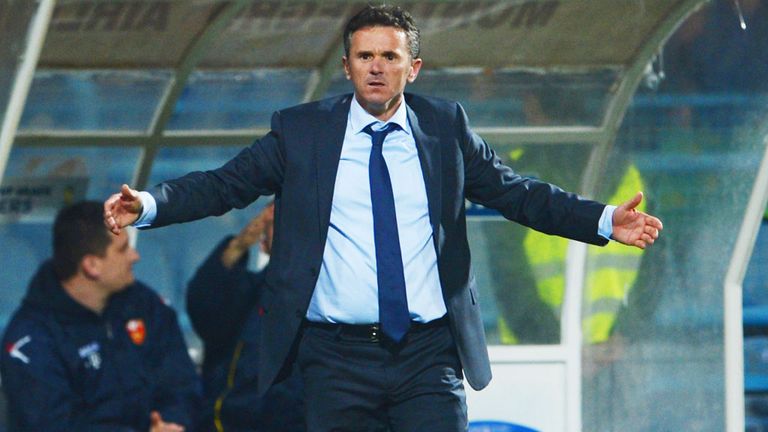 Coach Branko Brnovic's team gave England a very good match in the reverse fixture back in March and deserved their 1-1 draw after a second-half fightback.
However, their team on Friday will be nowhere near as strong because captain Mirko Vucinic, centre-back Marko Basa and midfielder Miodrag Pekovic are all injured, and defender Miodrag Dzudovic is also doubtful.
Brnovic cut a confident figure before the previous match, branding England long-ball merchants, but he was far more subdued at his pre-Wembley press conference on Thursday.
"I'm sorry we are not complete, I was planning to play one great match," he said.
"Even if don't succeed, we did a great job in these qualifiers and this team has a bright future in front of them."
Big occasion for Montenegro
And, when asked about the recent troubles of England goalkeeper Joe Hart and whether his team might be able to wind up forward Wayne Rooney, Brnovic refused to take the bait.
"I don't want to talk about any English players," he said. "I will concentrate on my team."
However, there was a moment of levity when, asked whether his team might freeze in front of a full house at Wembley, he pretended to misunderstand the question.
"It's OK, we brought some jackets with us!" he said. "Every single player is looking forward to it. You cannot play every day at Wembley, and this is an important match."
Manchester City forward Stevan Jovetic is available to play up front for Montenegro, despite recent fitness concerns, and is more optimistic than his manager.
"It's true we're missing important players but we have to play with the players who are here," said the 23-year-old.
"We know England are strong, we've played them three times and drawn three times.
"I'm sure, even if we are missing a couple of players, we can still play a good game.
"We will play our best and try to win - and I think it will be perfect."