Kevin Davies backs Jack Wilshere over England eligibility and discusses FA commission
Kevin Davies has backed Jack Wilshere over England eligibility and wants FA commission to focus on grassroots football.
Last Updated: 11/10/13 11:53am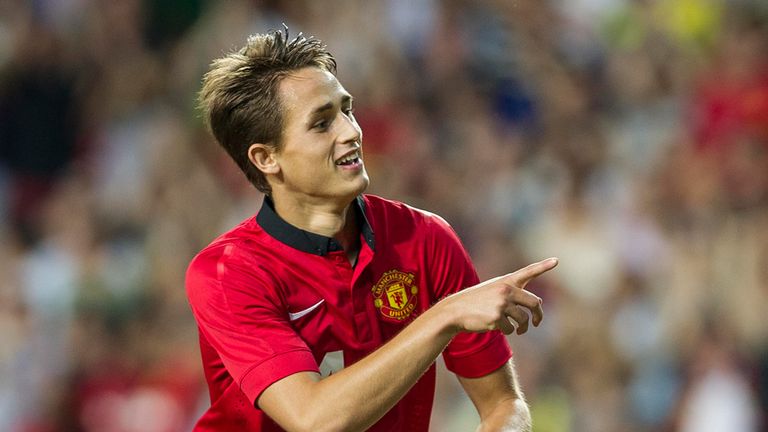 Wilshere caused a media storm earlier this week when he questioned the idea of a player not born in England ever representing the Three Lions, following suggestions that Manchester United's Adnan Januzaj could one day be selected.
"If you live in England for five years it doesn't make you English," Wilshere said. "If I went to Spain and lived there for five years I am not going to play for Spain."
Preston striker Davies, capped once by England in 2010, has sympathy with Wilshere's view.
He told Sky Sports News Radio's Football League Hour: "I had the opportunity to play for Scotland, and with Davies you think there's a bit of Welsh in there so I could have pursued those avenues, but for me there was no doubt. It's either England or nothing.
"Jack has fuelled the debate on Januzaj and it's an interesting one. But he's here to work, not one of his parents or grandparents are English, he's literally here just to play football for a few years. I don't think that's enough to qualify to play for England.
"There's a guy, (Saido) Berahino, who's in the Under-21 squad at West Brom. He had to move here 10 years ago with his family - they moved from there country, were having troubles over there - he's an adopted Englishman now and is proud to play for us.
"That's a different situation. We're proud to have him playing for us and we can see he's proud to play for England. It's an interesting debate but I understand where Jack is coming from."
Also this week, Football Association chairman Greg Dyke announced eight of the names that will form a commission to examine ways of increasing the numbers of young English players playing at the top level.
Davies welcomes the move but hopes the focus is on the lowest level of the game.
"I think it should have been done 10-15 years ago," Davies said. "Spain, Germany, they've all passed us, we're down to 17th in the rankings. Countries like US and the Swiss are above us so there's obviously a problem.
"There's not enough English players playing. It's 30% (in the Premier League) this year, down from 72% when it started in '92 so it's been a gradual process and hopefully [the commission] is asking all the right people.
"But I think they need to start at the bottom. He (Dyke) is talking about 2022 but people like Wilshere and (Daniel) Sturridge are going to be in the 30s so it's the ones below that they need to be looking at now and the ones even lower than that in grass roots.
"Get the coaching standards right, look at the facilities, just get people playing more football."
Davies has his own ideas on the changes that need to be made to help solve the problem of English players not reaching the top level of the game.
He said: "I've written a document that I'll be putting out soon on what I felt when I was growing up to where it is now, what's changed.
"The academies are taking on players too young, I think they need to be enjoying their football more.
"There's too much pressure on them from a young age. They're flipping from club to club at seven, eight, nine, and getting rejected - that's wrong for a start.
"My son's in an academy. I moved him from a local team because he wasn't getting a good standard of coaching. It was a typical dad wanting to run a team on a Sunday morning - a lot of dads do that at that level - these guys need to be educated as well. Give people all the chances to coach better and better themselves.
"Coaching is expensive; a lot of the coaches at the Academy at Bolton can't go to the next level because it's too expensive. It's £5,500 to get up to UEFA A standard; it's too expensive, so make that more affordable as well.
"We've only got 1100 UEFA A coaches. Spain have got 12,000; Germany have got 5-6,000 so let's get that right as well."
Davies, who said he will be happy to give his thoughts to the commission if asked, also believes the extra money in football nowadays has led to a change in the attitude of young players.
"I think the academy kids now get it a little too easy," he said. "We were YTSs; we were cleaning the toilets until 5pm, cleaning the stands out, doing all the dirty jobs, and it wasn't done in spite, it was done to discipline you and keep you grounded.
"They get too much to soon now and football becomes a means to an end for them. It's not about playing football, it's about how much money they can earn and what lifestyle they can live whereas when we were growing up it was all about playing football."
To hear more from Davies, download the latest Football League Hour or listen to it via Soundcloud below.