Roy Hodgson backs his England players to finish job off against Poland
Roy Hodgson trusts his England side to finish the World Cup qualifying job in style with a win against Poland.
Last Updated: 12/10/13 12:33pm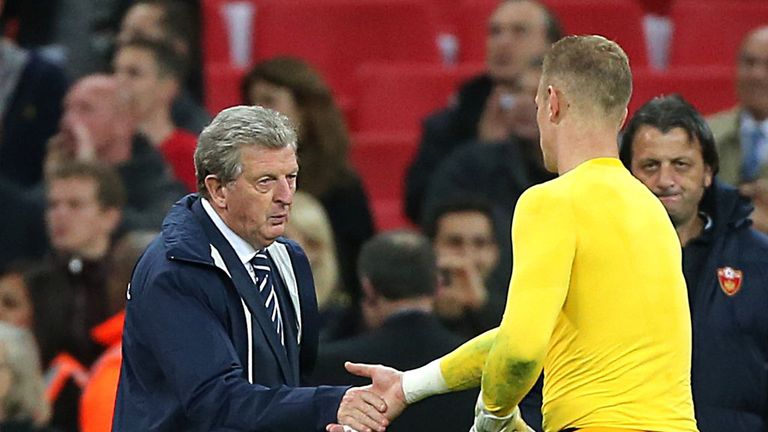 The England manager saw his bold move to select Tottenham winger Andros Townsend for his debut pay off spectacularly when he scored a stunning goal and picked up the man-of-the-match award in Friday's 4-1 win against Montenegro.
He now believes England, who top Group H after an unbeaten campaign so far, will book their trip to Brazil next summer, although he has warned his men against complacency.
"The job's half done.," said Hodgson. "If we want to qualify direct we need to win against Poland on Tuesday night. That won't be easy. That will be very difficult.
"If they play as well against us on Tuesday as they did against Ukraine it will be a tough game."
Ukraine beat Poland to stay one point behind England and have a footballing 'gimme' with their last fixture against San Marino.
Hodgson, however, said: "I always back the players. I trust them. We are still unbeaten in this qualifying group. We are capable of going unbeaten in the 10th one and with the backing we got from the fans and playing at Wembley I have got to back them. I would be foolish not to."
Hodgson admitted the selection of Townsend was a tough decision but was delighted the gamble paid off.
"He made a big impact. He got the man of the match which he must be delighted with," added Hodgson. "It can't be easy for a young man making his debut in a game of that nature.
"He deserves all the credit which I am sure he is going to get because he played well, with a calmness and composure which I have seen him play with for QPR and most recently Tottenham. I was fortunate he was able to reproduce it.
"We had a lot of time to think about our selection. It was not easy to leave people like James Milner and Jack Wilshere out, as they also bring a lot of attacking flair.
"We thought Townsend's pace against a packed defence would open doors. He really performed on the night."
Wayne Rooney also praised the bold attacking team selection by Hodgson.
"It was great - exciting, with a lot of speed and with experience of Steve [Gerrard] and Frank [Lampard] behind us.
"The manager gave us the freedom and platform to go out and express ourselves and I thought the four of us did that, especially Andros [Townsend], that was some debut."
After a goalless first half, Rooney's close range strike on 48 minutes eased the tension that had been gathering over Wembley. Branko Boskovic's own goal doubled the home side's advantage 13 minutes later before Dejan Damjanovic dragged Montenegro back into the game and sent nerves jangling once more.
However, a spectacular goal from Townsend and a stoppage time Daniel Sturridge penalty secured the points.
"It was a tough game," Rooney told Sky Sports. "First half they defended deep and defended well but we still created a few opportunities.
"So we came in at half time knowing we could create chances against Montenegro.
"I think getting the goal so early in the second half was vital and we excelled after that and deserved the three points.
"I think you saw a weight come off everyone's shoulders. It was always going to be a night where we had to be patient and try and break them down but getting that goal was vital for us."