World Cup qualifiers: England midfielder Frank Lampard driven to reach finals in Brazil
Frank Lampard is determined to reach the World Cup after admitting Brazil could be his final big tournament.
Last Updated: 13/10/13 10:24am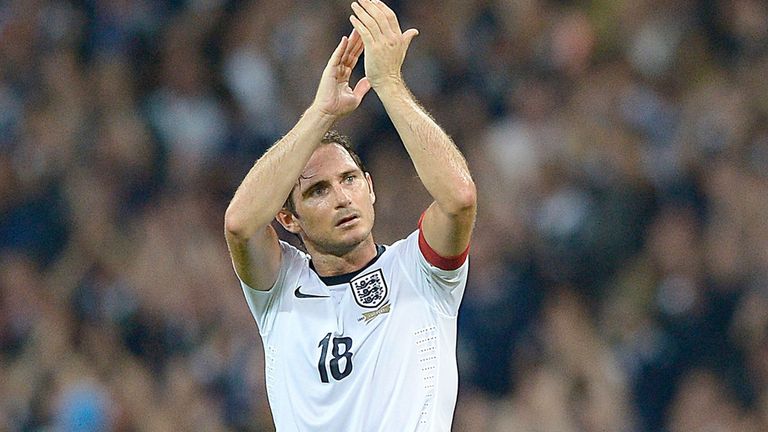 Chelsea ace Lampard insists the older players in the squad are driven to seal England's place in next summer's finals, conceding this could be his last chance to make a World Cup appearance.
England are just one win away from securing their trip to Brazil and 35-year-old Lampard admits the Poland clash is a huge game for him with the player in the twilight years of his international career.
"It is a huge game. For me, for everyone. Not just the fact it may be my last World Cup, it is the fact there is an England team wanting to get there," Lampard said.
"Brazil is one of the homes of football. We believe we are the home of football but if you look at history, the flamboyance...
"We played there in the summer and you could feel the magic around the place. If you are playing for your country you want to be there."
"There is a lot of desire. Me and Stevie [Gerrard] have been here a long time.
"I don't know, Stevie may have aspirations to carry on in an England shirt but for us it is a huge thing. It will be fantastic in Brazil and an England team not being there would be a bad thing. I think it is pushing all of us on."
Despite Poland being out of the running for qualification, Lampard is wary of the threat posed by their opponents, but he remains confident England will hold their nerve to secure the win to seal their spot in next summer's finals.
"They have some big-name players in their team and we know they will want to come here and put on a show regardless of whether they have qualified or not," added Lampard.
"They will be relaxed and we have to make that sure we have the extra edge as we need the win to go to Brazil. We need to come out firing on Tuesday, no matter what they do. I believe we will hold our nerve."