England v Poland: No World Cup play-off talk, insists Roy Hodgson
England will not allow the play-offs to distract them from securing their World Cup ticket on Tuesday.
Last Updated: 14/10/13 4:00pm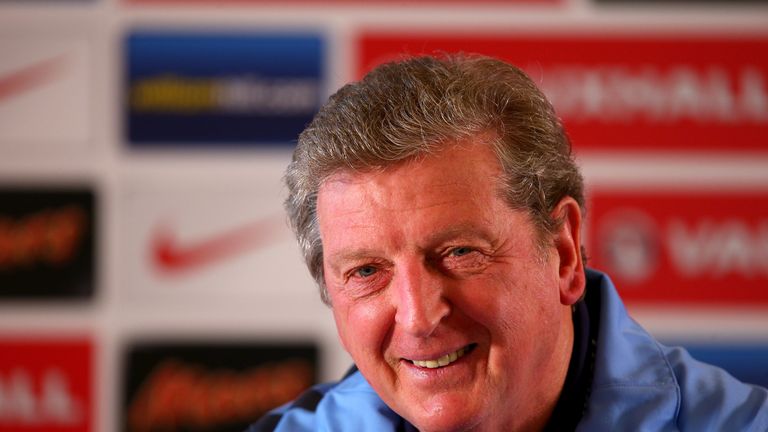 Hodgson's side will be assured of their place at Brazil 2014 if they follow Friday's 4-1 win over Montenegro with victory over Poland at Wembley on Tuesday.
Should they slip up and the Ukraine, as expected, beat San Marino, England would face a two-legged play-off against another of Europe's runners-up but Hodgson refused to contemplate a second-chance saloon scenario.
"No, I don't think the play-offs will ease any fears over qualification," Hodgson said.
"I'm not thinking of the play-offs. This is a game we want to win. I don't think I will be satisfied if we don't win.
"This is our game, our stadium, our fans, and we're pretty sure we're going to win - that's how we are approaching the game."
It is almost exactly 40 years since the Three Lions last needed to beat Poland in a make-or-break qualifier, Jan Domarski's goal in a 1-1 draw infamously preventing England from qualifying for the 1974 World Cup finals.
That game has loomed large in the build-up but Hodgson said memories would not burden his current crop.
"History is important when it comes to not making political mistakes but when it comes to sport, it has no relevance whatsoever," he added.
"Every game's a new game and each Poland team that's played England is different so we're concentrating on our job."
Hodgson accepted an increased ticket allocation that could see around a quarter of Wembley filled by opposition fans may help Poland, but said he understood the reasons behind the decision.
"I presume it will lift Poland but there are a lot of Polish people living in this country and I understand the FA was virtually forced into this situation because of concerns over safety problems with the infiltration of Polish fans into the English fans," he said.
"Our players are pretty used to playing in matches where the opponents have a large number of fans, but I think 65-70,000 versus 20,000 is a pretty good margin for us and if our fans get behind us like they've done before I don't fear that."
The entire 22-strong England squad was present and correct when they arrived at London Colney to undergo light training on Monday.
And ex-Arsenal midfielder Ray Parlour believes England's best chance of beating Poland and earning an automatic berth in next year's Finals is to continue where they left off against Montenegro on Friday and play the same attacking style which earned them victory.
Speaking to Sky Sports News reporter Nick Collins, Parlour said: "It's all about how they start, the tempo and pace of the game.
"They created lots of chances the other night. They need to play a similar sort of way, attacking football, then I don't think there will be a problem."
Parlour believes that Andros Townsend, who enjoyed an excellent debut against Montenegro, scoring one goal and creating another, should start against the Poles.
"He deserves to play," Parlour added. "He scored a great goal and was always a threat on the right-hand side.
"He delivered good crosses into the box although Hodgson could take the safety option - by picking James Milner - but after that performance it is difficult to leave him out."
On a replacement for the suspended Kyle Walker, Parlour said: "Phil Jones is the likely replacement, maybe Chris Smalling, but Jones is more defensive-minded and with Leighton Baines (the other full-back) an attacking player Jones would have to cover the centre-halves. And he's never let England down before."