Jakub Blaszczykowski says 18,000 fans and 1973 give Poland motivation against England
Jakub Blaszczykowski says 18,000 fans - and their footballing history - will motivate Poland at Wembley on Tuesday.
Last Updated: 15/10/13 12:34am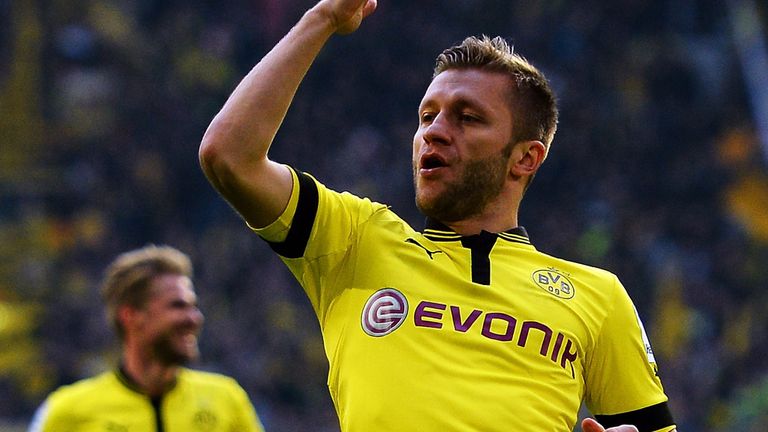 The Football Association have doubled Poland's ticket allocation to 18,000 in a bid to prevent away supporters causing a security risk by mingling with their home counterparts.
Poland cannot qualify for Brazil, but the huge number of Poles at the game, and the history of the fixture means England cannot expect an unmotivated team.
Poland's 1-1 draw at Wembley in 1973 is engrained in the psyche of Polish football fans, in much the same way as 1966 is for the English.
Against all expectations the Poles - with keeper Jan Tomaszewski their hero - denied Sir Alf Ramsey's team a place at the 1974 World Cup in West Germany.
The Poles went on to finish third in that tournament, their best ever performance in the World Cup.
Playing England at Wembley therefore has a special significance for Polish players and supporters, regardless of whether they can qualify or not.
Skipper Blaszczykowski - the Borussia Dortmund midfielder - recalled the massive away support at the Aviva Stadium in Dublin in February when Poland were beaten by the Republic of Ireland, and says a repeat of the noise they generated - and the memory of 1973 - can inspire them.
"That game in 1973 has a very important place in our history. Against Ireland, most of the fans were Poles and we expect the same tomorrow," said Blaszczykowski.
"I am happy to hear about so many Poles coming to the match. We want to entertain them and get a very good result at Wembley.
"Hopefully we will play well enough to send them back home smiling. We are all very unhappy at not qualifying but that is how it is.
"We have not scored enough goals despite creating many chances, and have drawn too many matches, most after single mistakes."