Peter Taylor urges Roy Hodgson to keep Jack Wilshere on the bench against Poland
Peter Taylor has told Roy Hodgson to stick with a winning formula and keep Jack Wilshere on the bench against Poland.
Last Updated: 15/10/13 5:37pm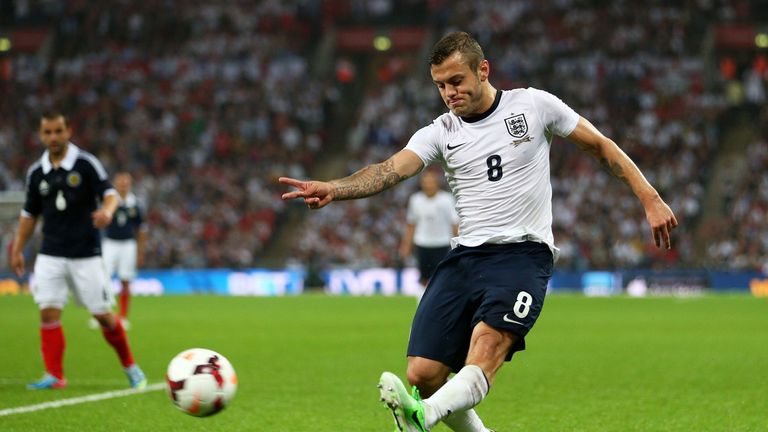 Frank Lampard's place in the centre of midfield alongside captain Steven Gerrard is under threat with Michael Carrick and the Arsenal youngster pushing to start in the crucial World Cup qualifier at Wembley.
But Taylor, who took charge of England for one match in 2000, insists it would be best to hold Wilshere back until later in the game.
He told Sky Sports News: "Gerrard and Lampard were outstanding on Friday - they balanced the team, kept the ball and went forward at the right time.
"I would start with the same team. When Wilshere came on he set up a couple of counter attacks.
"He can run and pass past players. If the other side are tired and there is half-an-hour to go, Jack could be lethal."
Taylor says Poland are a more attacking side than Montenegro, who were beaten 4-1 at Wembley last week, and will offer more opportunities for England as a result.
"The hardest game was Friday because of the way Montenegro got behind the ball," said Gillingham's new interim manager.
"Poland will have more attacking flair. We are going to have to defend well but there will be more holes and options for us to score. We have to go for it as we did the other night."
Taylor was impressed by the approach Hodgson's side took on Friday and is confident they will complete the job, even if Poland are backed by large support.
The Football Association have been criticised for doubling their ticket allocation due to security fears, granting 18,000 of their fans the chance to cheer on their side at Wembley.
However, Taylor believes that could work in England's favour. He said: "That's great for atmosphere and that won't affect our players whatsoever. The noisier the better because we will be stronger than them."
In fact, the only worry Taylor has about England getting the win required for progress to next year's finals in Brazil is the loss of Kyle Walker at the back.
He said: "That is a bit of a blow because he is in good form and it is obvious he is on the same wavelength as Andros Townsend.
"But Phil Jones is an excellent defender. Poland are strong in those areas but you have a very capable full-back."