World Cup: England manager Roy Hodgson proud of players after qualification
Roy Hodgson savoured England's success after their 2-0 victory over Poland secured a place in next year's World Cup.
Last Updated: 16/10/13 1:01pm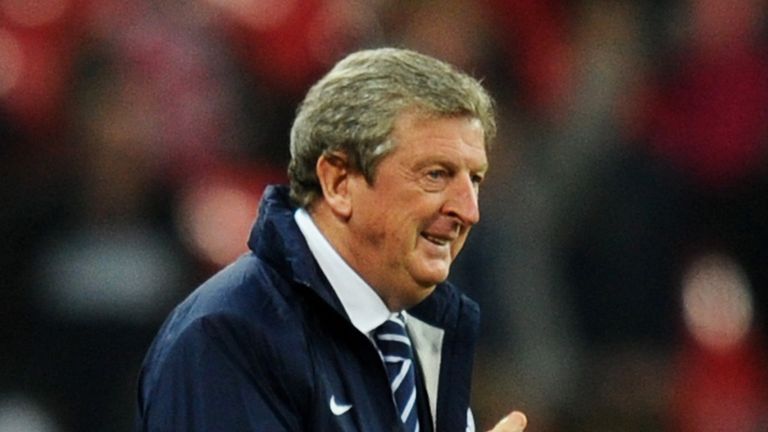 England needed to win their final two qualifiers to seal top spot in Group H and they followed up Friday's 4-1 win over Montenegro with another impressive performance.
Wayne Rooney opened the scoring at Wembley just before half-time and Steven Gerrard's late goal sparked huge celebrations in the crowd and on the touchline.
"It's great. It's been our goal and I suppose you could even say it is a dream for every national team and every national team coach to lead his team out in a World Cup in Brazil," Hodgson told Sky Sports News.
"I think that over the 10 matches we have deserved it. We have had to dig in once or twice, it's not been an easy group, but I think these last four matches have really shown some good sides to our play.
"These two games were enormous pressure for the players. I think they have done ever so well to come out and withstand that pressure."
Hodgson was delighted with England's performance and picked out his captain for special praise following another inspirational display.
He said: "I think it's fitting that the second goal was scored by Steven Gerrard because what a tournament that man has had. There has not been one of the 10 games when he hasn't played a captain's innings for us and I think he probably deserves more credit than he's been given so far.
"We played some spectacular football at times. We played some really exciting football at great speed, but unfortunately we didn't get that second goal so the second half was a bit nervy.
"I am so pleased for the team. They were so anxious not to miss out on a World Cup in Brazil, so determined not to waste what they think has been a tough but a good qualifying campaign, and luckily they have done it in these last two games."
When asked where leading England to a World Cup ranked on the list of his career achievements, Hodgson admitted that it was probably the highlight.
"At the moment I am tempted to say it is my greatest, because being English and being the manager of England, that takes a bit of beating," he added.
"But I don't want to denigrate what we did at Switzerland, first the World Cup and then the Euros, because we didn't have as many world-class players to choose from as I do with England, and also at Finland where I think we were a bit unlucky to get as close as we did."
Captain Gerrard wants England to remain grounded as they prepare for a summer in Brazil.
"The opportunity is there. I have said all week there is a good confidence and belief in the group, but at the same time we are going to keep ourselves grounded and stay humble," he said.
"It is important now that it does not flip and everyone thinks we are going to go and win the World Cup, that we are favourites and everyone gets carried away.
"What is important is we have shown everyone we are a good team.
"We have not felt sorry for ourselves when we have had criticism, we have rolled our sleeves up, tried to work hard and put it right.
"It is a great feeling to be in Brazil and hopefully we can go in with a little less pressure on ourselves and surprise a few."
Gerrard shared in the emotions of the night at Wembley, where 20,000-plus Poland fans had made for an amazing atmosphere.
"It was a relief for everyone," Gerrard said. "At 1-0 it was very nervous, tense and edgy, you are always thinking that one mistake and you could be in trouble.
"I got a bit of a break with the goal, but when I saw it in the back of the net. It was a tremendous feeling."