World Cup: England head coach Roy Hodgson refuses to rule out success in Brazil
England head coach Roy Hodgson has not ruled out England winning the World Cup in Brazil next year.
Last Updated: 16/10/13 9:49pm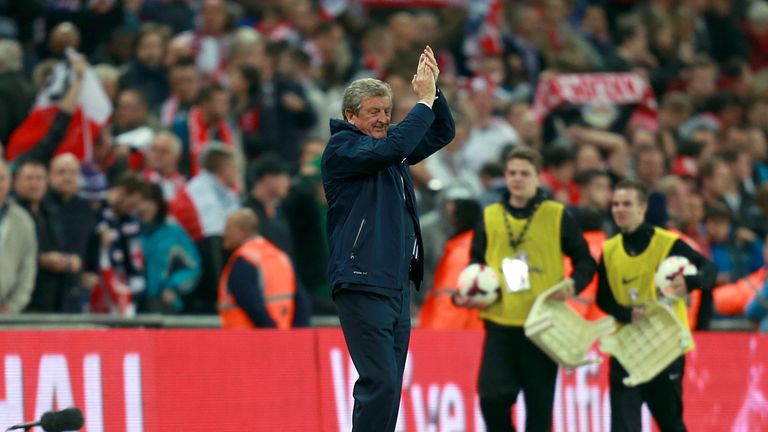 Hodgson's men booked their place in next year's finals in Brazil after a tough qualifying campaign with a 2-0 victory over Poland on Tuesday night.
England are regarded as one of the outsiders to win the tournament of the countries that have already booked their place and Hodgson was keen to adopt a cautious approach.
But the experienced campaigner also made a point of keeping alive hopes of a surprise victory by saying it was not impossible England could return home with the trophy.
"European teams don't win in South America, but I don't think there's any point in saying 'this is impossible'," he said.
"I also think we've been in a slight transition period, young players are coming through, we're getting better, but we're not at the level of some other teams.
"We won't be favourites, that's for sure. If you're going to define World Cups as only worthwhile if you win it, then trying to qualify becomes a complete waste of time."
Hodgson said it will be tough - though not completely out of the question - for England U21 stars Saido Berahino and Ravel Morrison to force their way the squad for Brazil.
West Brom starlet Berahino and West Ham's Morrison have been in sensational form for club and England U21s, and both are being tipped to make a strong push for Hodgson's squad.
"They could (be selected)," Hodgson said. "But at the moment their first task is to get past the youngsters we already have.
"Ravel has done very well as has Saido, but on the other hand Daniel Sturridge has been playing for the national team and Ross Barkley has been very, very impressive in training. If he had played for the U21s he'd be getting the sort of rave reviews that Ravel and Saido have been getting. It won't be easy for them.
"Luckily I've had players who are not only playing for their clubs but are important players. Sturridge was getting excellent reviews for Liverpool and has brought that with him and done it for us. Danny Welbeck and Andros Townsend, Jack Wilshere and Kyle Walker are the same and long may that continue."
Hodgson made clear that he will have a solid backbone of experience in the squad, going as far as to name who he currently expects to be key in Brazil.
"We're going to need the Lampards, Gerrards, Rooneys and Coles because the young players feed off them," he said.
Ashley Cole missed the last two games because of injury and it was put to Hodgson that Leighton Baines - who played superbly as his deputy - may now be first choice.
"That would be harsh on Ashley Cole, who's still a fantastic player," said Hodgson.
"He was injured and it would have been a tough decision for me had he been there because I have such respect and admiration for both players. But Leighton is of the very highest level and it's going to be a battle between those two to get the shirt. I'm lucky to have such good players but I'm not prepared to say this one is the undoubted no 1.
"Wayne Rooney is vital. He and Steven Gerrard have been immense in this campaign. There is no doubt that young players are very exciting and our future."
Hodgson says he has some hard thinking to do between now and next summer, not just about selection but about where he wants the squad to stay and how accessible they should make themselves.
"In one respect the hard work starts now, but it's a long way off and there's an awfully long time for us to make our decisions, to get our details right," he said.
"We can't really do any sort of detailed planning before December 6 when we find out who we're playing, because that will affect a lot our decisions, where we're going to be based. I'm fortunate that the FA has such a lot of experience at tournaments and logistics of it."
Hodgson will name his final squad in May, and he admits he is going to have some tough decisions.
"I hope I have a tough job in May. It would be nice not to be chasing around trying to fill the quota. It would be nice to have the problem of who on earth can I leave out because I've got too many," he said.
England are 22/1 outsiders to win in Brazil - eighth in the pecking order, with the host nation the 100/30 favourites ahead of 5/1 trio Germany, Argentina and Spain.
Belgium (14/1), Italy (16/1) and Holland (20/1) are all priced shorter than England, who have now qualified for five consecutive World Cups.
Sky Bet football trader Chris Spicer said: "We are currently top price at 22/1 about England winning the 2014 World Cup in Brazil ahead of the draw on December 6th, where they are expected to be among the second seeds."
He added: "Now that qualification is assured the focus will be on who will make Hodgson's final 23-man squad for the tournament.
"Andros Townsend was 12/5 to be on the plane after being named in the latest squad but having impressed in his first two caps he's now deemed likely to go at 8/15.
"Others are either on the verge of breaking through, such as Raheem Sterling who is 7/2 to make the squad, or a veteran like Jermain Defoe (3/1) who will be hoping experience can win him a spot."