World Cup: England captain Steven Gerrard keen to manage expectations
England captain Steven Gerrard has urged supporters not to pile pressure on them ahead of next year's World Cup.
Last Updated: 17/10/13 9:49am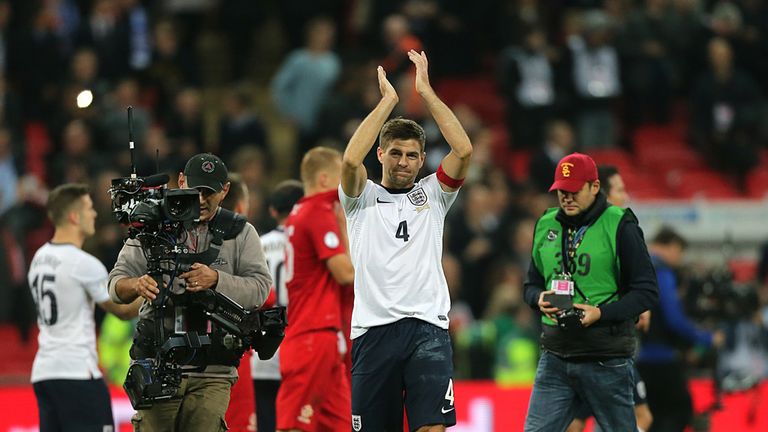 Victory over Poland at Wembley on Tuesday secured their place at the finals in Brazil but Gerrard is keen to manage expectations after experiencing disappointment at previous tournaments.
"From my experience of going in to World Cups, people talk about golden generations and that we are one of the favourites, that this will be our year and stuff like that," he said.
"That creates a false pressure, and unfair pressure because it's a very tough tournament to go in to. This time around people will be more realistic.
"I think the important thing is now that people don't get carried away and start putting us with teams like Spain and thinking that everyone is fine and we are a fantastic team.
"I think we are a good team, I think we can still get better, I think we have got a good blend of youth and experience.
"Against Poland first half we were fantastic, but second half we showed we still have to improve to compete with the best."
The Liverpool skipper remains upbeat about England's chances at the World Cup though and is keen for them to progress past the quarter-final stage, something they have not done since Italia 90.
"Everyone wants to try and improve on that quarter-final, that is the hurdle we have struggled to get over," he added.
"And that is the reason why the message I want to send out is that we need to improve, keep getting stronger, if we are to get over that hurdle."
Unlike in the previous World Cup, Gerrard feels the right ingredients are there for the campaign in Brazil to be a relaxed and enjoyable one.
John Terry questioned the tactics of then manager Fabio Capello during the 2010 tournament in South Africa while other players did not take well to the Italian's strict approach.
The team also disliked being holed up in a remote retreat in Rustenburg.
There was a clear change of tact from Hodgson when he took over. He based the squad in the centre of Krakow during Euro 2012 and plans are afoot to place the squad in the heart of Rio next summer.
"I think it is relaxed (this time) because Roy trusts his players," said Gerrard, who worked with Hodgson at Liverpool.
"He gives them free space and free time, but when we work, we work hard and if he sees anyone slacking he is on us like a ton of bricks and that is the right way to do it."