England's Andros Townsend defuses joke row as manager Roy Hodgson issues apology
Andros Townsend has confirmed he took no offence at Roy Hodgson's joke at half-time of England's clash with Poland.
Last Updated: 18/10/13 7:01am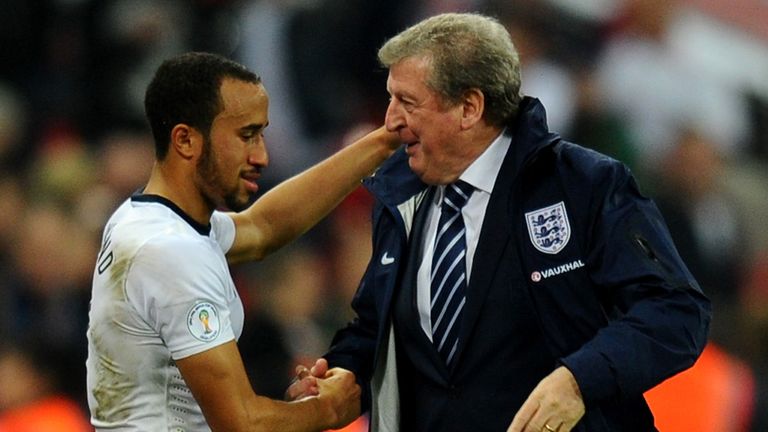 Hodgson reportedly told a joke during half-time of the match against Poland on Tuesday with the intention of getting right-back Chris Smalling to get the ball to Townsend as often as possible.
One player was alleged to have been upset with the joke, which included the term 'feed the monkey' and dates back from when the American space agency NASA sent a monkey into space in one of their missions.
Townsend, whose father Troy works for the Kick It Out campaign, said on Twitter: "I don't know what all this fuss is about. No offence was meant and none was taken! It's not even news worthy!"
Wayne Rooney also leapt to the defence of his manager, saying via Twitter: "He done nothing wrong. This is ridiculous."
Hodgson and the Football Association are reportedly upset that his comments have become an issue, especially in the wake of all the positive press he received for securing England's place at the World Cup finals next summer with the 2-0 win at Wembley.
"I would like to apologise if any offence has been caused by what I said at half-time," Hodgson said.
"There was absolutely no intention on my part to say anything inappropriate. I made this clear straight away to Andros in the dressing room.
"I also spoke to Andros again on Wednesday. He has assured me and The FA he did not take any offence, and understood the point I was making in the manner I intended."
Kick-It Out campaign chairman Lord Ouseley called for further investigation, though, saying: "This is not a hanging offence but offence has been caused, and now it is public the FA has a duty to investigate what happened.
"All the FA has to do is examine the facts and make a statement. If they do not there will be recriminations from other players."
I don't know what all this fuss is about. No offence was meant and none was taken! It's not even news worthy!

- andros townsend (@andros_townsend) October 17, 2013
Seen the story on roy this morning. He done nothing wrong. This is ridiculous.

- Wayne Rooney (@WayneRooney) October 17, 2013
Townsend scored a superb goal on his international debut against Montenegro and followed that up with another eye-catching performance in Tuesday's 2-0 victory over Poland.
The 22-year-old is now a strong contender for a place in Hodgson's 23-man squad, but appreciates that he can take nothing for granted as selections will be made based on club form over the remainder of the 2013/14 Premier League season.
"For me, I have got to put that to the back of my mind now," Townsend told Sky Sports News.
"I have got a difficult enough job trying to keep my place in the Tottenham team. We have got some fantastic players all vying for one position, so I have got to play well in every game and hopefully the rewards will come at the end of the season."
On what the future could hold for England, as they prepare for another shot at World Cup glory, Townsend added: "We're not going to get carried away.
"We know we have got some world class players, experienced players - like Steven Gerrard, Frank Lampard - but we have also got the youth coming through in (Danny) Welbeck, (Daniel) Sturridge and Jack Wilshere.
"So there is a nice mix of experienced players and the youngsters - the future is bright for us."
Hodgson was also full of praise for the Spurs player after the win over Poland, saying: "We have found an outstanding winger in Townsend who has played two games as if he's been there all his life.
"When you perform that well in front of 90,000 everyone will look. It's when he's not outstanding that people will ask 'what's happened to Andros Townsend' but he will deal with that."