QPR boss Harry Redknapp offers backing to England coach Roy Hodgson
QPR boss Harry Redknapp is backing Roy Hodgson as the fall-out over his 'feed the monkey' team-talk continues.
Last Updated: 18/10/13 2:51pm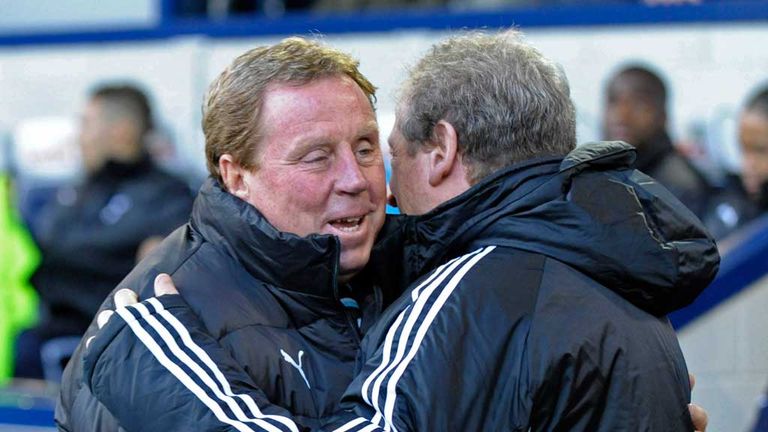 Redknapp was in the running to become England coach when Hodgson was appointed and admits an over-riding feeling of sympathy for the man who beat him to the job.
Hodgson used a joke including the term 'feed the monkey' as he was trying to get his point across to Chris Smalling to pass the ball to the lively Andros Townsend as often as he possibly could in the second-half of the 2-0 win over Poland, a comment that reportedly upset one of the players in his dressing room.
The England coach has been backed by a number of his players, been given the full support of the FA, and Redknapp is the latest to speak up in favour of the respected veteran boss.
Redknapp said: "Roy Hodgson is a great guy and he's certainly not a racist, not a chance.
"The only advice I could give Roy, and he's been around as long as me, is to keep his message the same he gives his players, keep it simple.
"There was nothing racist meant about his comments, no way.
"Somebody comes out and tries to cause a problem for him and that's a shame after such a great night. Hopefully it will all go away and we can move on."
Arsenal boss Arsene Wenger was also asked about the Hodgson situation at his Friday press conference, but he preferred to concentrate on the sanctity of the half-time team-talk, which he believes should always remain private.
"First of all I must say, I don't really know what happened, secondly we can go sometimes a bit overboard at half-time because it's an emotional situation and there's a lot of desire and effort in there," Wenger said.
"Basically all has to remain in the dressing room, that's an old word that you know well in England. But unfortunately these times have gone so you have to be very careful what you say, wherever you are."
Fulham manager Martin Jol believes that Hodgson, one of his predecessors at Craven Cottage, has been unfairly treated.
He said: "He was joking about it probably, or maybe he wanted to motivate or inspire them, I would do that you know.
"If you know Roy Hodgson, if you know the reaction of the players, I think there's nothing in this little incident."
And Townsend's club manager Andre Villas-Boas feels no more needs to be made of the situation, as he said: "Roy assumed his responsibility, apologised, there was no offence taken (by Townsend). It's the end of the matter."