Jose Mourinho hasn't spoken to Chelsea captain John Terry about an England return
Chelsea manager Jose Mourinho has confirmed he has not discussed the subject of an England recall with John Terry.
Last Updated: 19/10/13 7:39am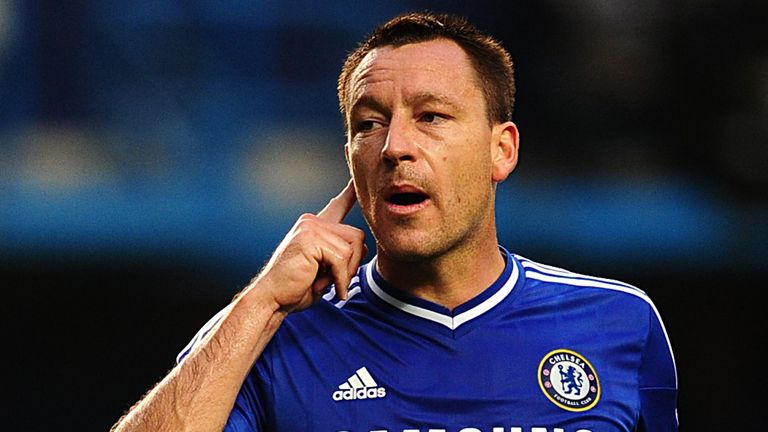 Former England skipper Terry retired from international football following the Anton Ferdinand affair, but is currently keeping Gary Cahill out of the Chelsea side.
Cahill has established himself as England coach Roy Hodgson's first-choice centre-half, but there has been speculation of a return to the fold for Terry.
However, Mourinho said: "I've not spoken with him about it (England). I just tried to recover his status as an important player. When a player plays for a big team it's because he's good enough to.
"Rio Ferdinand plays for Manchester United. If he plays for Man United, he's ready for the national team.
"John Terry. When you play for a big team, you are ready for the national team.
"But the problems that ended with the player stopping to go to the national team, that's not my problem, that's not David Moyes' problem, that's not a manager's problem. It's a personal thing."
Earlier this year it was suggested Terry would consider an international return, something Mourinho says is a matter for the player and Hodgson.
The Chelsea boss said: "I'm not in favour or against. It's their decision."
Terry has been boosted by Mourinho's return, having missed some key fixtures under last season's interim boss Rafael Benitez, who preferred Branislav Ivanovic at centre-back.
"He had a bad season," said Mourinho, who views Ivanovic as a right-back. "Sometimes self-esteem is a bit attacked. In this moment he is fine.
"It doesn't mean he will always be first choice with me, but he knows that I trust and am happy with the way he's performing."
Mourinho does not like leaving Cahill out, but insists he will get his chance and his England hopes will not be compromised by a lack of action at club level.
"I would never do something that could jeopardise his selection for the national team," Mourinho said.
"He is going to play a lot and who knows, in a couple of weeks I may change my mind because of performances and he becomes my first option and I leave John or David [Luiz] out."
In World Cup year, players are even more keen to play and impress, and Mourinho added: "I have to think about Chelsea but I also have to think about them and their national teams, because it's important to them.
"When a player is not selected for the national team he is sad and when a player is sad he can't perform for Chelsea the same way he performs if he's happy.
"It's all connected. In the case of Gary, I have to make him happy, I have to make him play, he has to go to the national team and Roy has to be happy."