Richard Scudamore insists Premier League are committed to helping FA plan
Richard Scudamore insist the Premier League are fully committed to helping the FA develop more England players.
Last Updated: 20/10/13 5:35pm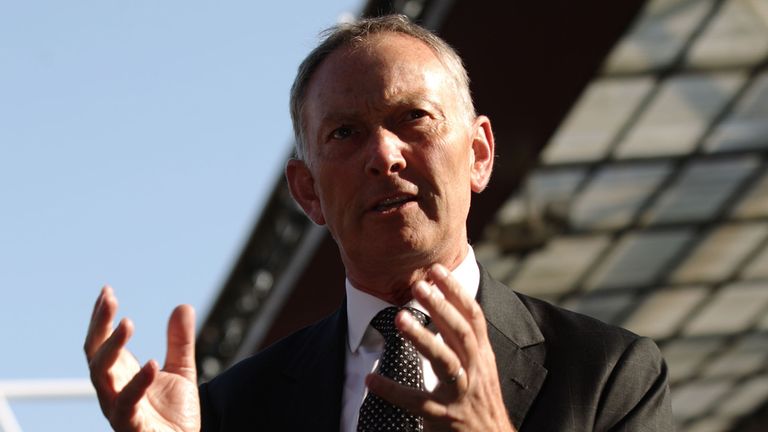 The Premier League were criticised for declining an offer from FA chairman Greg Dyke to take a position on his FA commission designed to improve the national game.
But chief executive Scudamore insists the decision not to take a seat will not stop the Premier League from doing its best to help produce and develop more home-grown talent.
"The Premier League is absolutely committed to playing a central part in that discussion, just as our clubs are to producing more and better home-grown players," he told the Daily Mirror. "The emphasis being on the better, not just more.
"We at the Premier League were as pleased as anyone to see Roy Hodgson and the England players complete the job of qualifying for Brazil on Tuesday night as it is good for the whole English game."
Scudamore firmly believes that the Elite Player Performance Plan, which was set up in 2012 with the intention of boosting youth development at all levels, will help achieve Dyke's goal.
"The absolute focus of the new youth development system introduced last season through the Elite Player Performance Plan is simply to do that," he added.
"Produce players of the quality of Andros Townsend, Ross Barkley and Jack Wilshere in greater numbers.
"That is why we are investing £340m into elite youth development over four years. That is why we are investing a further £186m into grassroots participation and facilities over the next three years, working with Government, Sport England, The FA and schools.
"The Premier League and our clubs want a strong England side. We understand the benefits to the whole of English football that would come from success in a FIFA World Cup or a UEFA European Championships."