FA chairman Greg Dyke responds to Heather Rabbatt criticism
FA chairman Greg Dyke has responded to Heather Rabbatts' criticism of his newly-appointed commission.
Last Updated: 24/10/13 10:07am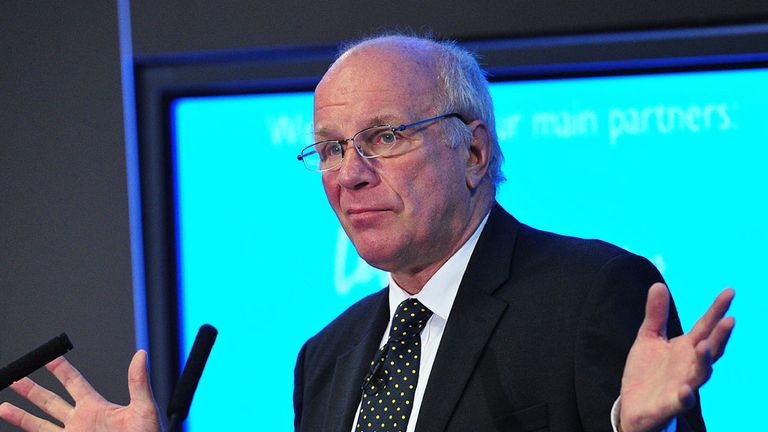 Rabbatts, the only female member of the FA board, said the all-white, all-male nature of the commission means "the opportunity to lead an informed debate on the future of English players has been singularly damaged" and that a "refusal to understand" her position forced her to go public with her concerns.
Dyke has now responded to her letter - a copy of which was obtained by Sky Sport News - and revealed that the Commission was originally intended to include black former footballer Clark Carlisle.
And the Government have also now entered the row with new sports minister Helen Grant due to speak to the FA next week to express her concerns about the maek-up of the commission.
Grant said: "Sports governing bodies must reflect the make-up of the diverse society that we live in. I expect the FA to ensure that voices from all backgrounds are heard loud and clear and contribute to this important piece of work to help strengthen English football."
in a letter to Rabbatts, Dyke wrote: "I recognise your strength of feeling on this issue but I am sorry that you felt that you had to make your concerns public.
"Personally, as the instigator and organiser of the Commission, I was surprised by your comments as they seem to imply that somehow we have got to where we are because of a lack of understanding in the area of diversity.
"Only two weeks ago you and I discussed ways of making organisations take their responsibilities in this area more seriously - we both agreed we want action not ineffectual policy papers on race - and in my brief time at the FA I have met with both Herman Ouseley, the Chairman of Kick it Out, and Trevor Phillips, the former Chair of the Equalities Commission, to discuss overall policy in this area. It is an area I have long cared about.
"The make up of the Commission has been moving for some time but I did explain to you and the Board that we planned to appoint two or three additional members and would have done so this week had the issue of Roy Hodgson's dressing room comments not blown up.
"I do accept we made a mistake announcing only part of the membership of the Commission when we did, but to suggest we never considered the ethnic balance of the Commission is unfair. We originally had Clarke Carlisle as a member but the PFA decided they would rather have their new Chairman on the Commission, and we also identified other individuals from the BAME community who we felt would add strength and value to the Commission.
"Unfortunately as they are active in football on a day to day basis either they felt the time commitments would be prohibitive. As you know we still want to see people with relevant experience from the BAME community on the Commission and giving evidence to it.
"The aim of the Commission is two-fold. The first is to try to strengthen the England team going forward.
"The second is to ensure that talented English kids, whatever their ethnicity or creed, are able to fulfil their potential to play at the highest level in English football, something which currently we are not sure is happening. If we can make some progress towards achieving both these aims it will have done a good job."