England hero Andros Townsend needs protection, says Roy Hodgson
England boss Roy Hodgson has demanded Tottenham's Andros Townsend should be handled with care.
Last Updated: 20/10/13 11:27am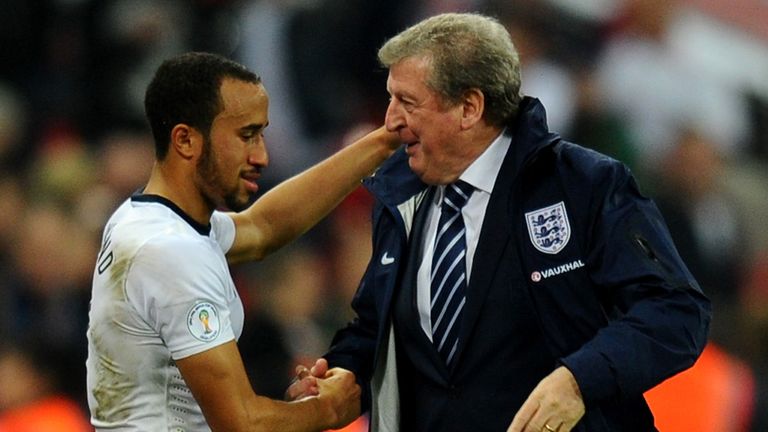 The 22-year-old was a revelation during the recent World Cup qualifying wins over Montenegro and Poland to prove a stunning turnaround in fortunes after suffering relegation in the summer as a loanee at QPR.
Hodgson said: "The spectacular performance in the first half against Poland was quite frightening. Andros really stepped up in those two games.
"The only thing that worries me is that all of a sudden, from being a player who has been loaned out nine times and whose manager (Andre Villas-Boas) said I was wrong to pick him because he was not ready to play international football, he is now a world hero in the same class as Arjen Robben and Franck Ribery.
"The lad needs a break. People need to accept he is still a young man who is learning his trade at this highest level. I would want to protect him as best I can and I am sure his manager would say the same."
Despite England sealing their passage to next year's World Cup in Brazil, the media spotlight centred on Hodgson's "space monkey" comments made at half-time on Tuesday.
The controversy riled the England manager and highlighted the difficulties and troubles that cloud anybody who picks up the reins of a role often described as the "impossible job".
"When you take it people are quickly at pains to point out it can only end in tears," the 66-year-old added.
"Maybe that is right. Maybe that is how you will make it for me as well. I never saw it that way. I saw it as a great opportunity to work with some fantastic players and a chance to achieve our goal of getting to a World Cup.
"I will go to the World Cup hoping we can do something there, knowing full well all of us will be slaughtered if we don't come home with the trophy. That is the way it is."
Hodgson will use next month's friendlies with Chile and Germany, plus an intended March date with Denmark, to assess the merits of some of his fringe men.
There will also be three more friendlies, including one against the United States, that won't be finalised until after the finals draw on December 6.
The former Liverpool and Fulham boss is satisfied with his team's progress and one player that has pleased him is Wayne Rooney.
The temperament of the Manchester United striker has been questioned on the international stage, following his rant at England's fans in Cape Town during the 2010 World Cup and is dismissal in Montenegro that cost him the first two games of Euro 2012.
"You can't keep judging people on errors they have made in the past," Hodgson said. "If there have been temperament issues he has been lambasted for them.
"If we look over this qualifying tournament Wayne's discipline has been fantastic. I am not even certain he has got a yellow card. I am not prepared to concern myself with what he did in this tournament or that qualifier.
"I judge Wayne on how he has been with me since I have known him. He has been very good, both as a player and in terms of his discipline. Why should I doubt him?"
Watch Andros Townsend line up for Tottenham in Sky Live's Sunday showdown at Aston Villa at 4pm on Sky Sports 1 HD.