England U21 boss Gareth Southgate will give opinions to Greg Dyke's FA commission
Gareth Southgate expects to be asked to contribute to Greg Dyke's new FA commission on the future of the English game.
Last Updated: 22/10/13 4:22pm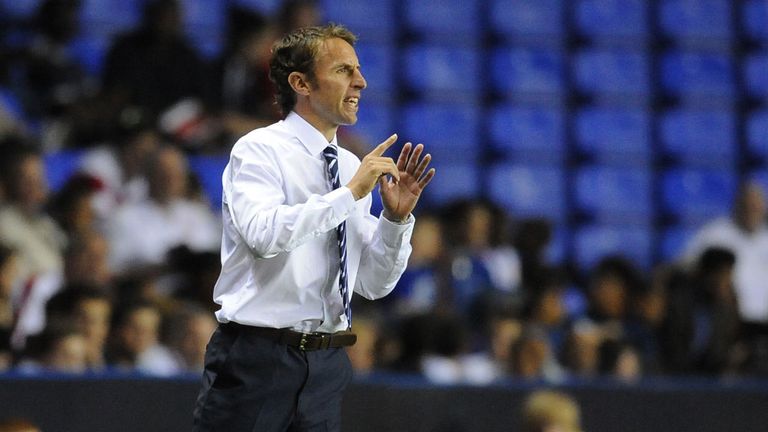 The England under-21 manager is not among those who have been invited onto the panel but is confident his input will be required.
The make-up of the panel has caused some deabte as, when it was initially released by Dyke, it was all-white and failed to include any women.
The FA chairman responded by announcing Rio Ferdinand had been added to the list of commission members but he remains under fire for his approach.
England manager Roy Hodgson has also been brought onto the commission and Southgate believes he will be asked to contribute informally, as he was for a previous think-tank.
He said: "We had a youth development review in 2010 to which a lot of people were invited to contribute and I am sure that will be the same this time.
"I am already within the organisation [at the FA] and it is important ideas come from outside. That is what the chairman is trying to do.
"I am sure not only the people on the commission but many others will be asked for their opinions."
When Dyke launched his scheme to pave the way for a brighter future for the English game there was widespread pessimism about the prospects for the country.
The lack of top-quality of talent emerging was a particular criticism but opinions have changed with the recent success of players such as Andros Townsend and Ravel Morrison.
Southgate insists there are an impressive number of inventive players coming through. "Morrison is a super player," he said. "We are fortunate that in our age group we have very creative players.
"Players like Jack Wilshere and Alex Oxlade-Chamberlain are of a similar age and have gone through the under-21s but it shows there is a bit of depth at this age level. If they keep developing the possibilities are endless."
Gareth Southgate is an ambassador for the StreetGames Football Pools Fives, a programme taking football to thousands of disadvantaged young people across the UK.