Ronaldo plays down fears of violence at World Cup in Brazil
Ronaldo is convinced that next year's World Cup finals will not be disrupted by civil unrest in his homeland.
Last Updated: 05/11/13 9:45pm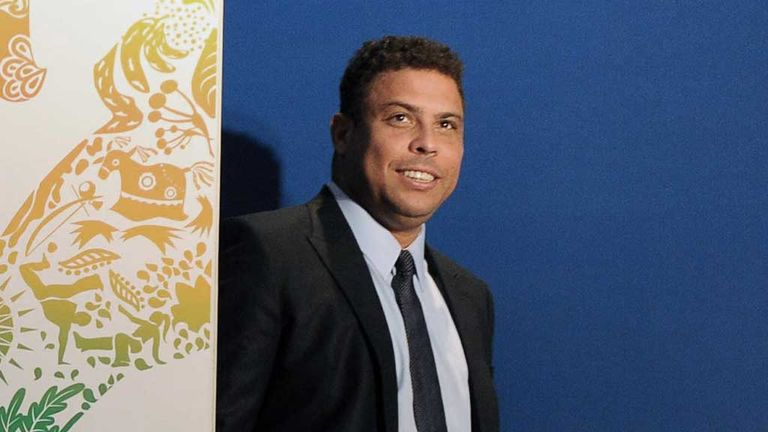 Global football convention Soccerex, due to take place on the eve of the World Cup draw next month, has been cancelled with organisers citing the withdrawal of local government support due to "civil unrest" as the reason.
The state government of Rio denied that was the reason for calling off the event, which England boss Roy Hodgson was scheduled to attend, and claimed the Soccerex organisers did not apply for the correct funding.
Security remains an area of concern ahead of next year's showpiece, with fears of a repeat of the violent protests that marred the Confederations Cup in June.
But double World Cup-winning striker Ronaldo, an ambassador for the World Cup organising committee, insisted the tournament will not be blighted by similar problems next summer.
"Brazil is a civilised country," said Brazil's second-highest goalscorer. "It's a country that is known worldwide for being very hospitable to tourists.
"I am sure there won't be any problems in the World Cup because the last survey showed that the Brazil population is in favour of the World Cup.
"The Brazil population sees the World Cup as an opportunity for there to be investment in Brazil.
"Brazil is experiencing something really special now. It's a moment of change.
"We must listen to any non-violent protests. We won't tolerate any violent protests, but I don't believe there will be any type of protest during the World Cup."
Ronaldo also believes that England are good enough to win the World Cup, and disagreed with former coach Sven-Goran Eriksson's claim that Hodgson's side had no chance of success in Brazil.
"I think it's a bit of an exaggeration when (Eriksson) said England have no chance," said Ronaldo.
"I think the most traditional teams have a chance to win the World Cup, but I do believe that England is much below Brazil, Germany and Spain.
"However, it is an excellent team."