A virus has forced England to stay away from St George's Park
England have been forced to stay away from St George's Park due to a suspected stomach virus.
Last Updated: 12/11/13 4:45pm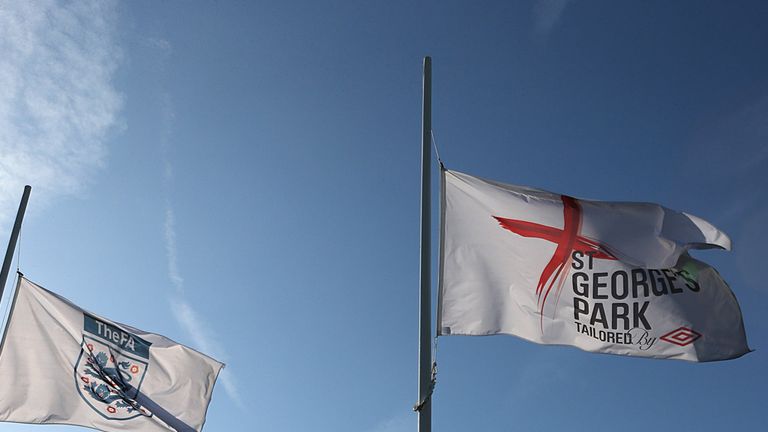 Roy Hodgson's senior squad were due to assemble at the National Football Centre in Burton-upon-Trent on Tuesday ahead of friendlies against Chile and Germany but alternative plans have now been made.
The Under-21s, who are preparing for Euro 2015 qualifiers against Finland and San Marino, were already on site but they have now been moved to new accommodation.
It is believed the virus was brought into the hotel from outside and the Football Association and Hilton acted immediately in taking the precautionary measure to remove players and staff.
There is no indication of it being a health or hygiene issue related to the hotel's operation and, while the teams have been moved, the site has not been closed while the cause is being investigated.
It will also not affect the England team staying at St George's Park in the future.
"The FA has been advised of a suspected stomach virus that has been discovered on site at St George's Park and affected a small number of visitors over the weekend," said an FA statement.
"To date, the England Under-21 squad has not experienced any symptoms related to the virus. They have been on site since Sunday.
"However, as a precautionary measure, the under-21s are moving hotels and the England senior team will now not meet at St George's Park.
"Alternative accommodation and training arrangements have been made for both teams.
"This is an elite athlete precaution for the two senior teams. Normal operations continue for the SGP and hotel staff, customers and the public.
"To reiterate, these proactive steps have been taken by The FA as a precautionary measure."
England seniors will instead report to the Grove in Watford on Tuesday before training at Colney, while the Under-21s have relocated to Milton Keynes.