Issues for Roy
Who's the back-up for Rooney? Can Southampton's stars make it to the World Cup? Cole or Baines? What next for Hart? Ex-England star Chris Waddle talks Sky Sports through Roy Hodgson's key debates ahead of the friendlies against Chile and Germany
By Peter Fraser - Follow me on Twitter @SkySportsPeteF
Last Updated: 14/11/13 12:06pm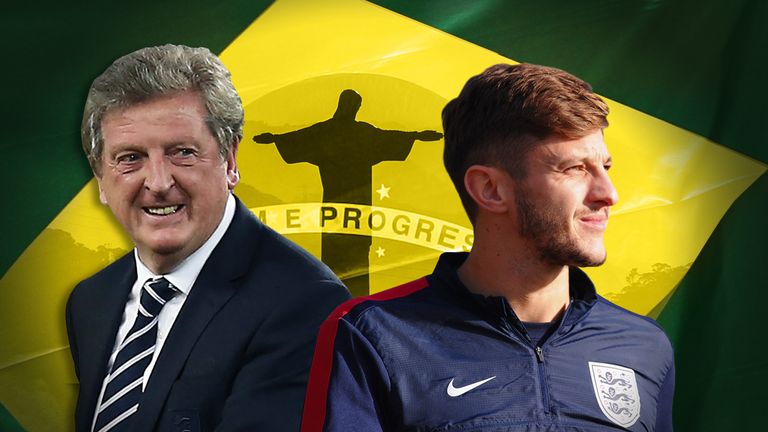 England face Chile on Friday before taking on Germany next week with several key decisions facing manager Roy Hodgson.
The Three Lions boss has seen his squad severely damaged by injuries ahead of the friendly games but there is still plenty to learn from the matches in the countdown to next summer's World Cup in Brazil.
Here, former England star Chris Waddle takes a look at the main debates, including the future of Joe Hart, Wayne Rooney's potential understudy, Southampton's stars and the choice between Ashley Cole or Leighton Baines.
Should England drop Joe Hart?
"Joe Hart is still the No.1. Okay, he has had a bit of a funny time but, if you look through history - whether it be Ray Clemence, Peter Shilton, David Seaman or Paul Robinson - they have all had a period in their careers when they have had bad spells. Joe is having that spell. His confidence has been dented a little bit. But we know what Joe is all about. On his day, he is as good as anyone in the world. I think Roy should give Fraser Forster and John Ruddy a half each against Chile, or maybe even a game each against Chile and Germany. The lack of experience of Fraser and John does worry me ahead of the World Cup. If they make a mistake in these friendlies and they are not up to it, then we will have found something out about these players."
Who is the back-up for Wayne Rooney?
"Southampton's Adam Lallana should be playing on Friday night instead of someone like Wayne Rooney. We know that Wayne is a terrific forward. But if Wayne was to get injured or if something was to happen before the World Cup, who plays that No.10 role? I just hope Roy has not brought Adam into the squad to play him on the right or left wing when we know he plays for Southampton in a similar role to that which Wayne plays for Manchester United. In my opinion, Adam is the understudy to Wayne at this moment in time. Players who get picked for doing what they do with their club should be allowed to do that at international level rather than getting played out of position."
Can Southampton's stars make it to the World Cup?
"It is about form, confidence and players hitting the ground running. At the moment, the Southampton boys are doing that. There is a long way to go between now and when Roy names his squad but these guys deserve their chance at the moment. Whether they get used enough in the friendlies, we will see. But they have done themselves no harm. As long as Southampton keep their form going, there is no reason why these guys will not be going to Brazil."
Ashley Cole or Leighton Baines?
"Leighton has probably got the nod at the minute. Ashley is not an automatic choice. Both are very good full-backs. Leighton is better in an attacking role while Ashley is better in the defensive half. Leighton can score from free-kicks, deliver fantastic set-pieces and attacks on the overlap. Cole has got that little bit more pace and is better defensive quality. Neither player would let you down and they have both booked their ticket for Brazil."
Do England have the right style of play?
"It is too late to change it now. We need to change it from grassroots. I have always said we need to coach people differently. To change England into Barcelona, Spain, Brazil or Germany, it is too late. We have to go with what we have got. Roy likes to play zonal, quite straight-line football. England's best policy is for a high-tempo attack and we are always good at set-pieces."
Chris Waddle was at Hallam FC to launch "Grounds for Improvement" from Capital One, offering one grassroots ground the chance to win a makeover worth up to £75,000. Visit facebook.com/CapitalOneUK