Chile goalkeeper Claudio Bravo looking forward to England test
Chile goalkeeper Claudio Bravo cannot wait to play against England at Wembley.
By Francisco Acedo
Last Updated: 15/11/13 1:17pm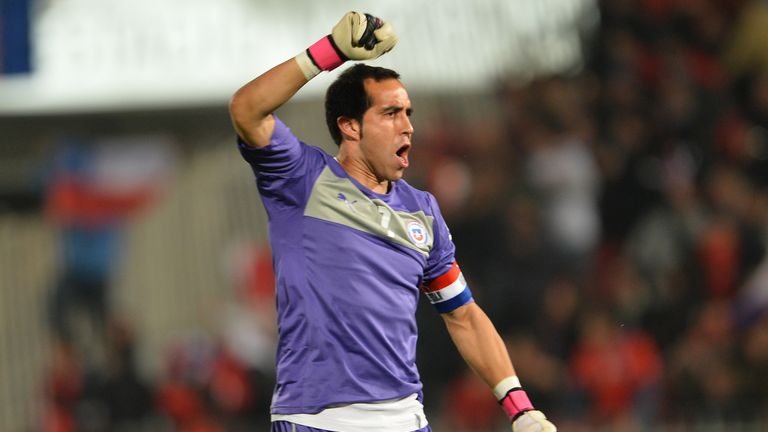 Speaking to Sky Sports, Bravo insists that Roy Hodgson's side remain one of the best teams in the world.
"For us this is a big test because we need to keep our ranking for Brazil, it is important to play against big squads and to measure our level game, so England is perfect," he said.
"England is one of the best squads in the world and for me it would always be in the list of candidates for the title.
"And a friendly at Wembley is a huge match because the atmosphere in the stadium is unique. I have played matches against English clubs and there is a special atmosphere in the grounds."
Bravo spoke about his opposite number Joe Hart, who has been dropped by Manchester City and will not play against Chile on Friday as Hodgson looks at John Ruddy and Fraser Forster.
"I saw the controversy about Hart in the papers, but for me he is a good goalkeeper but it is normal that each player suffers a loss of form and also that a keeper can commit errors," he added.
"If Hart does not receive confidence, it will be a problem for England because he would be an important piece for Brazil 2014."
Bravo insists that he believes the Premier League and England are full of very good players.
"The level of the Premier League is enormous, for me it is next to La Liga as the best competitions in the world," he said.
"And with a squad with people such as Rooney, Gerrard, Walcott, Lampard, etc, it is not just a simple rival - this will be a hard match and not a friendly.
"For us it will be very important to win because we want morale for the World Cup."