Friendly international: Roy Hodgson says England must learn from Chile defeat
England manager Roy Hodgson insisted his side would learn the lessons from the 2-0 friendly defeat to Chile at Wembley.
Last Updated: 16/11/13 6:30pm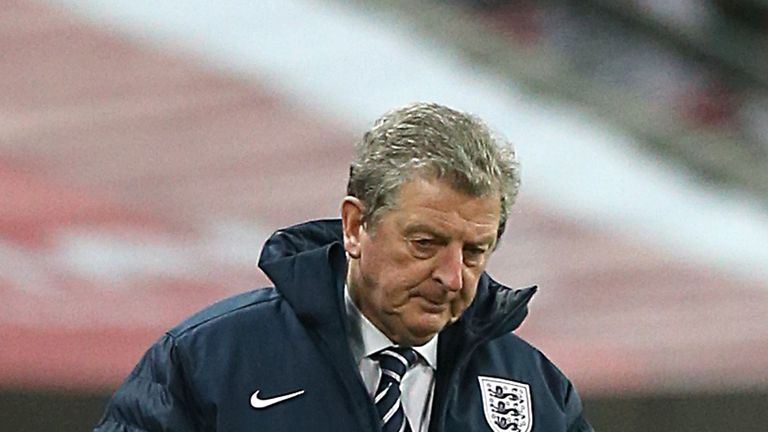 Boos rang around the stadium as England's 10-match unbeaten run came to an end with Barcelona's Alexis Sanchez scoring both goals - one in each half - as Chile exposed the lack of depth in Hodgson's squad.
Hodgson, who was also suffering a defeat at Wembley for the first time, had handed debuts to Southampton duo Adam Lallana and Jay Rodriguez as well as Celtic goalkeeper Fraser Forster and he called on the critics not to treat them too harshly.
"We used a lot of players and debutants and players who haven't got many caps," said Hodgson.
"Going a goal behind early meant we were on the back foot and always chasing the game against a team who were more than capable of keeping us at bay and keeping the ball.
"It would be harsh to make too many judgements on them (the debutants). They came into a team where a lot of people around them weren't that experienced if we take Frank Lampard out of the equation.
"Even our more experienced players would have found it difficult anyway because Chile were good and deserved to win.
"They played excellently. We learned a lot about South American opposition and how good they are at sucking you towards their goalkeeper and then manage to ping 50-yard balls on to people's toes. That's one of the best displays of goalkeeper passing I've ever seen.
"It's important that having been knocked down they pick themselves up again. We have another big game on Tuesday night. There are lessons to be learned. We need to play better if we are going to beat top teams like Chile and Germany."
Hodgson also refused to criticise the fans who voiced their dissatisfaction in a chorus of jeers at the final whistle.
"That's part of the game today," said Hodgson. "Fans don't accept defeats.
"I'm not prepared to criticise our fans. They've been fantastic throughout. They were obviously disappointed tonight that we couldn't keep our momentum going and send them home with a victory, so they are entitled to show their frustration but I think they will have a reasonable amount of perspective about it all."
Phil Jones, who started at centre-back, damaged his groin and will have a scan on Saturday, but Southampton striker Rickie Lambert will rejoin the squad on Sunday ahead of Tuesday's game against Germany following his muscle problem.
Chile manager Jorge Sampaoli saluted the performance of Sanchez in particular.
He said: "I am absolutely delighted. When you come to the cathedral of football it is great to play well and to make the Chile fans happy.
"It was a memorable performance for Sanchez and stands him in good stead to have a good performance at the World Cup. He has got everything to be a real star at the World Cup. He showed his class.
"We were up against an opponent who were in our faces all the time. In the second half we created less chances but we were in control of the game and moved the ball around well.
"I wouldn't say we were one of the favourites (for the World Cup) but it shows we can compete on equal terms. There is a long way to go to the finals, but we can go there and give teams a game."