England boss Roy Hodsgon admits he took a 'risk' against Chile
Roy Hodgson accepted responsibility for England's 2-0 defeat to Chile, admitting he took a 'risk' with his line-up.
Last Updated: 16/11/13 9:37am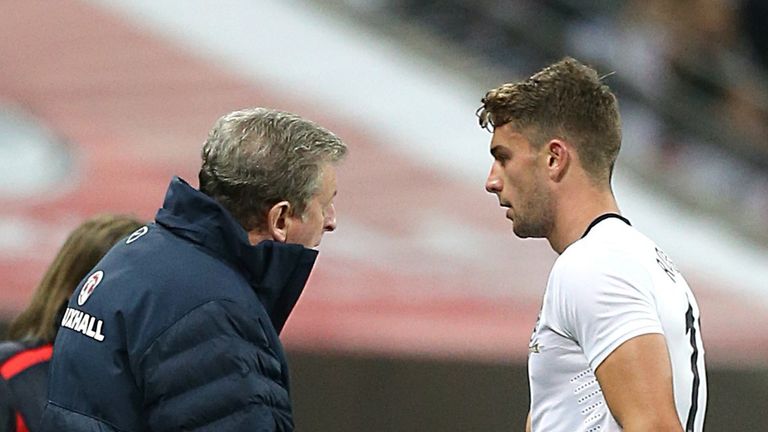 Hodgson's side suffered their first defeat in 12-months when they were upstaged at Wembley by their South American opponents.
Alexis Sanchez's double secured victory for Chile, and Hodgson admits he got it wrong.
"I took a chance and ran a risk with the debuts that it wouldn't go our way. It didn't, and have I have to accept that responsibility," said Hodgson - who refused to criticise the Wembley crowd, after sections booed the team off.
"Fans don't accept defeats or want them, we don't accept them either.
"But there aren't many games I see played today where the home team has lost and there isn't some sort of booing.
"I'll not criticise our fans. They were disappointed and we couldn't keep our momentum."
Hodgson insisted that he his three debutants, Fraser Forster, Jay Rodriguez and Adam Lallana did themselves no harm - despite the result.
"Forster didn't have to make many saves, he made quite a good one in the first-half, but was chanceless with both of the goals," he said.
"Lallana did well and Rodriguez did all the right things, but it was a big task for him to play that position.
"We have so many wide players injured or missing that his opportunity came a bit easier than he'd have liked and against opposition a bit than he'd have liked. But I'm not disappointed with any of them and I'd not write any of them off on the basis of that game."
Hodgson revealed Joe Hart along with a number of other players would be brought back in for the clash with Germany on Tuesday.
"Joe will start the game against Germany, as will the bulk of the players who have been playing in qualifying and didn't play," he continued.
"There will be a lot of players on Tuesday who didn't play tonight, so they should be fresh."
One player looking for another chance to impress against Germany is Southampton midfielder Lallana - and he will pull out all the stops to travel with the squad to next summer's World Cup.
"I am massively determined," Lallana said. "It is obviously the pinnacle of everyone really that's involved in the game.
"It is every child's dream to represent their country and I am happy I fulfilled that. I am just hungry for more now.
"I was proud to get my first cap, but obviously disappointed with the result.
"I gave it everything and got through 75 minutes and was obviously delighted to represent my country. I hope it is not the last time."
Captain for the night Frank Lampard feels the defeat to Chile will serve England well in the future.
He told Sky Sports: "I think there are some positives. We lost the game, and you never like to lose a game, but, on the negative side, we let them create chances. You have to remember they are top-quality opposition.
"It was a different style of play to what we are used to, so I think it was a very useful exercise for us.
"We don't like to lose but we've qualified for Brazil and we have to take certain things on the chin, learn from the mistakes and letting them have too many opportunities.
"Also, look at the fact that we created a lot - it was a very open game, first half particularly. It could have been 2-2 or 3-3 going in at half-time."