International friendly: England's Frank Lampard enjoys Germany rivalry
Frank Lampard believes England and Germany have a "good rivalry" and is hoping to play a part on Tuesday night.
Last Updated: 17/11/13 11:57am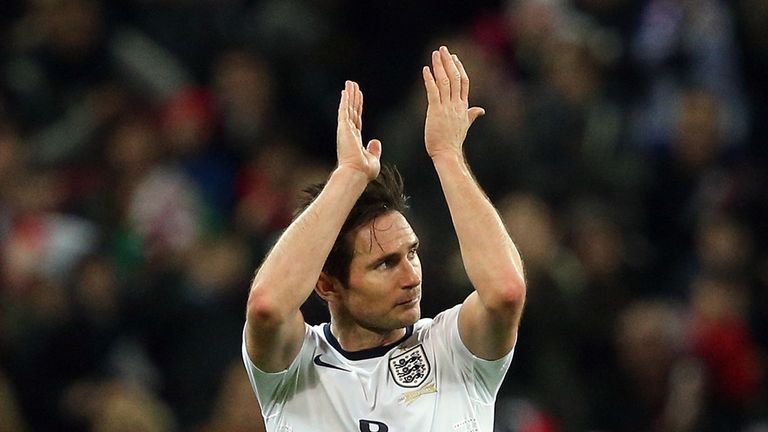 Lampard was awarded his 103rd cap as captain in Friday night's 2-0 defeat by Chile and is keen to feature again at Wembley in the second match of the international friendly double-header.
The 35-year-old Chelsea midfielder played the full 90 minutes on the last occasion the two nations met, when Germany thrashed England 4-1 in the World Cup 2010 round-of-16 tie in Bloemfontein.
Lampard famously had a goal incorrectly chalked off in that encounter, although he did score against the Germans in a Wembley friendly in August 2007 only for the visitors to win that game 2-1.
Looking ahead to Tuesday night, Lampard said: "I'd love to play. It's what we're here for, particularly against Germany. I think it's going to be a full house here.
"They're our rivals, and not in a terrible way - it's a good rivalry. We've got a lot of respect for them, but we want to beat them.
"There's a lot at stake for us. When 80,000, 90,000 of your own people come to support you at home, you really want to get a good result.
"And there is a lot of history there."
Lampard believes Germany have improved since reaching the semi-finals in South Africa in 2010, but insists England can challenge their rivals.
"They've got a very strong international squad, not just the XI," Lampard said.
"Their style of play is very good. I think they've improved."
Reflecting on that World Cup exit, Lampard said: "Coming home, there was a very negative feel, not just press and public, but in the squad itself.
"We were disappointed with ourselves and I think we've got a bit more of a positive feel back again now.
"The result was bad. To lose 4-1, regardless of having a goal disallowed, is not a good performance and we got sent home.
"(But) if you look back at the details of the game it was a bit different to that."
If Lampard's 'ghost goal' had been given, England would have gone in level at the break at 2-2, Matthew Upson having earlier reduced the deficit after goals from Lukas Podolski and Miroslav Klose.
"It would've changed the game," Lampard added.
"They dominated the first half an hour, for sure, but going in at half-time it definitely would've been a different game.
"We came out second half, at 2-1, we hit the bar; I remember hitting the bar with a free-kick.
"We were creating chances, we opened up a little bit to try to get back in the game and, on opening up, they went 3-1 ahead and it's a hard game. And we were probably too open."
Lampard insists the injustice does not dwell on his mind, despite it contributing to England's elimination.
"I wouldn't say it burns deep," he said. "I get asked about it quite a lot still to this day.
"It wasn't Germany's fault; it was a mistake by a referee and now it's created a change in football, where we've got goal-line technology, which is one bonus.
"It's happened, it's history. Frustration but nothing more than that."
German club football is now enjoying a dominant period. Bayern Munich beat Borussia Dortmund at Wembley in May to win the Champions League, but Chelsea pushed the European Cup winners close in the UEFA Super Cup in August and have twice beaten Schalke this season.
Lampard said: "We can't take too much away from ourselves. The English clubs at our best can give them as good as we get."