Friendly international: Wayne Rooney says it would be nice for England to beat Germany
England striker Wayne Rooney believes a victory over Germany on Tuesday would be particularly sweet.
Last Updated: 18/11/13 7:43am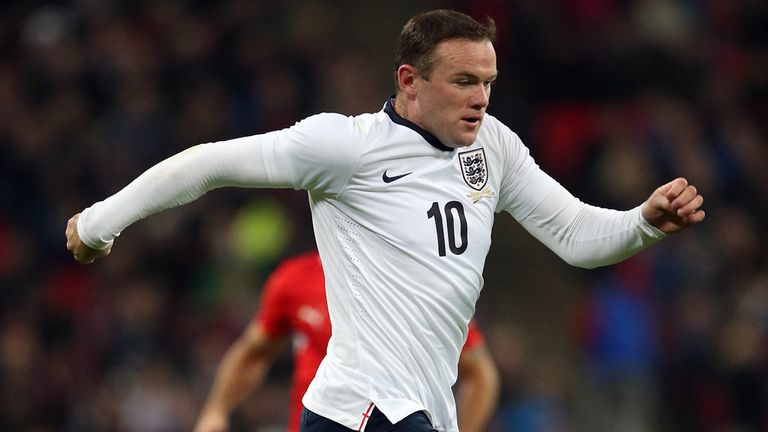 England and Germany will be meeting for the first time since the 2010 World Cup, with Roy Hodgson's men bidding to avenge that 4-1 last-16 defeat in Bloemfontein and bounce back from Friday's 2-0 defeat to Chile.
Rooney said: "It's nice to beat anyone, but especially the Germans. It's always nice when you beat them.
"It's great when you beat the big teams. When we beat Brazil here (in February) it gave everybody a lift and to get the draw away at Brazil (in June) was a great result for us.
"It's important that we try to win the game but I think it's important we try to deliver what the manager wants from us on the pitch.
"Against Chile we did some good things but they caught us by surprise with the way they played.
"That has gone now and we have to look forward to the game coming up on Tuesday.
"It will be a completely different game. It will be a game we're used to a bit more. The Germany game will be more similar to a Premier League game.
"They are a great team with some good players and it will be a big test for us.
"The biggest thing they've got is that they are a team. They all know their jobs and that's why they're so difficult to play against."
Rooney will come up against Arsenal's Per Mertesacker who says there is an even greater personal motivation for him to play well now that he plies his trade in the Premier League.
"For sure now there is an greater incentive to do well," Mertesacker said.
"I certainly know a lot more of the players personally now so that can only be a good thing.
"It's good to be here and it is really exciting for me in particular because it feels a bit like home for me to play here now.
"There is obviously a bit of a rivalry against England. All of us in the squad are aware of that and we are really looking forward to Tuesday."
Low's options for the Wembley date, part of the Football Association's 150th anniversary celebrations, have been hit by injury, most notably to midfielder Sami Khedira who has undergone successful surgery on a torn knee ligament.
Mertesacker's Arsenal team-mate Mesut Ozil and Bayern Munich pair Philipp Lahm and Manuel Neuer will also miss the game.