International friendly: Steven Gerrard says England only 'slight' underdogs v Germany
Steven Gerrard believes England are only "slight" underdogs going into Tuesday night's friendly against Germany.
Last Updated: 19/11/13 11:41am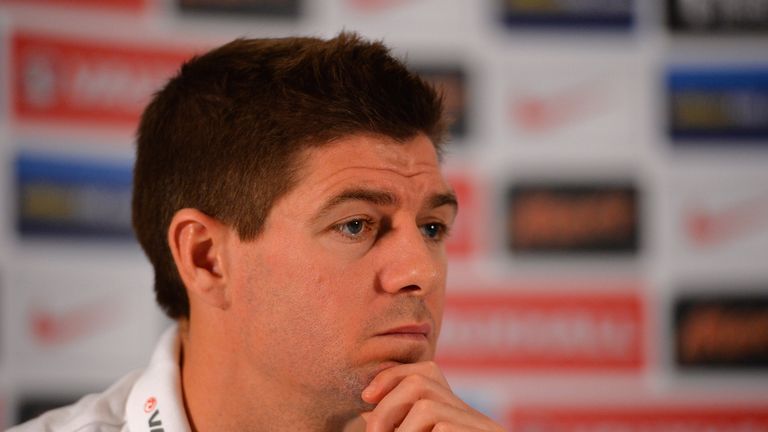 Joachim Low's side are currently ranked second in the world by FIFA behind reigning world and European champions Spain.
England are down in 10th spot and were soundly beaten in the last encounter between the two nations at World Cup 2010 in South Africa.
A dodgy decision from the linesman helped Germany, but there was no doubt that Low's men deserved the comprehensive win in Bloemfontein which sent England packing.
Gerrard admits the 4-1 loss was one of the worst moments of his career, but he thinks England are in a much better shape to face their old enemy this time around.
"I'd say we're better now," said Gerrard.
"We're a lot stronger. If we were to meet Germany tomorrow in a World Cup, I don't think we'd leave the pitch having been beaten 4-1.
"There is a good mix of youth and experience in the squad at the moment. We are all moving forward and improving all the time.
"If you look at how they've performed in recent tournaments and where they're ranked, then maybe we are slight underdogs. But if you look at both squads and both starting XIs on Tuesday night, I wouldn't say we're huge underdogs, no. Maybe slight."
Gerrard, who says he feels "proud and slightly embarrassed" to be matching Bobby Moore's 108 caps, is looking forward to his final World Cup in Brazil next year.
The 33-year-old has seen some top players pass through the ranks during his time with England, but he is excited about the emerging batch of stars in the current squad.
Andros Townsend impressed on debut against Montenegro last month and Adam Lallana's first foray into international football was an encouraging one.
So despite the fact that Germany have Thomas Muller, Mario Gotze and Max Kruse in their ranks, Gerrard feels England have no reason to be scared of their opponents.
"I have never gone out on to a pitch scared of anyone," the Liverpool captain said.
"I'll openly admit I've gone out and thought: 'Our backs are against it today' when I've come up against Barcelona in the Champions League.
"But I've never gone in scared. I've always gone in with the idea of it being a great opportunity to be the underdog for a change and that the underdog can come out on top.
"Even though it's a friendly, it's a game all the players are desperate to win and bounce back from the Chile performance."
England coach Roy Hodgson is similarly respectful of the visitors.
"I have got a lot of respect for what Joachim and Jurgen (Klinsmann) started off together and Low has definitely carried that on with a vengeance," Hodgson said.
"Germany have been really moulded in to quite a force in world football since the 2006 World Cup.
"One has to take one's hat off to what they have achieved, but on Tuesday night we will be doing our level best to send them home empty-handed."
Gerrard's participation in the game had been in doubt because of a hip problem, but he has had an injection to help support the ligaments in his hip and tighten them.
Gerrard has the injections every two years and he believes they have kick-started his career.
"I have (the injections) every couple of years," added Gerrard, who is urging Liverpool team-mate Daniel Sturridge to seize his chance on Tuesday.
"I think my game returned when I had them two years ago.
"I surprised myself really and my game has been really good so I'm hoping I can get the same game return from this set that I've had."