World Cup: England coach Roy Hodgson feels heat on visit to Manaus
England coach Roy Hodgson admits he is still concerned about the high temperatures his players will face in Manaus.
Last Updated: 24/02/14 9:24am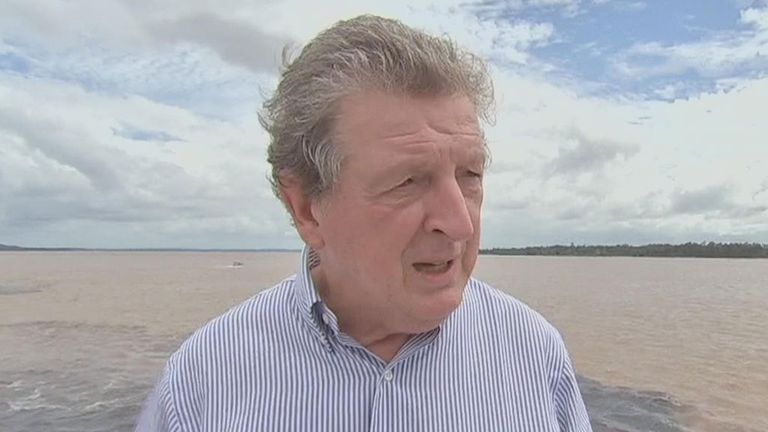 Hodgson is on a fact-finding mission to Manaus, where England will play Italy at the Arena Amazonia on 14 June before they head back to the relatively temperate Sao Paulo and Belo Horizonte for games against Uruguay and Costa Rica.
"It will be good to go and see the stadium and the training facilities," Hodgson told Sky Sports News. "It was important for me to get a feeling for those sort of things even though the FA have done a lot of work in that respect already before I came out here.
"I think the World Cups are traditionally played in the summer and there have been a lot of very, very hot tournaments that have been played. I remember the one in the summer of 1994 in America - it was absolutely incredible.
"I remember our (Switzerland v United States) opening game in the Silverdome indoors in Detroit; the heat and humidity were really quite incredible. So we accept that and we understand that it is going to be hot but the important thing for me was to get some sort of feel for it and we've got to hope we can prepare for those hot weather conditions."
Hodgson ruffled a few feathers locally after the draw was made when he suggested that he was not enamoured with the prospect of a trip to the heart of the rainforest.
While he may yet have some reservations on a purely footballing front, he admits that he had a long-held desire to visit the city for more cultural reasons.
He said: "I have always quite liked the idea of coming to Manaus because of the famous film many years ago by Werner Herzog (Fitzcarraldo, 1982) and the trip to the Opera House along the Amazon. It sort of titillated my interest, even at that early stage.
"In terms of football it might be more difficult in terms of heat than Rio or Sao Paulo but I'm sure all the teams that have to play here will be ready for it and all of them will find it a fascinating experience to come here."