England boss Roy Hodgson to look at fringe squad members against Denmark
Roy Hodgson has hinted at sending out an experimental England line-up in Wednesday's friendly against Denmark.
Last Updated: 02/03/14 8:49am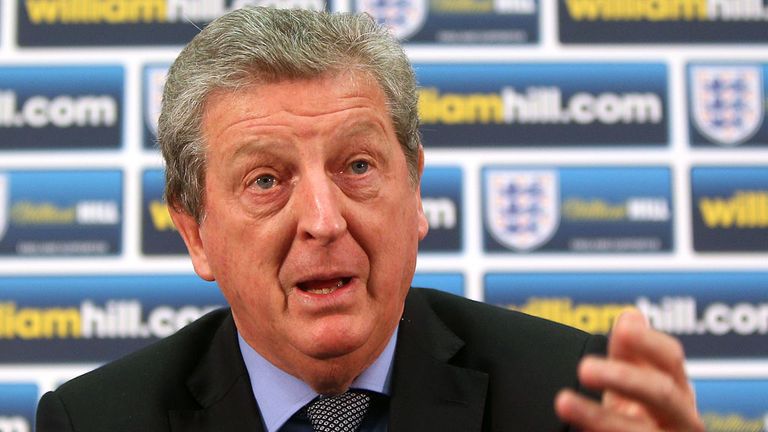 The match is Hodgson's last chance to take a look at his fringe options ahead of naming his squad for the World Cup on May 13.
Defeat would mean Hodgson becoming the first England manager in history to lose three successive home games but he is determined to give some of his less experienced players a chance to play their way into his plans.
Southampton trio Adam Lallana, Jay Rodriguez and potential international debutant Luke Shaw are among the players whose hopes of impressing will have been buoyed by Hodgson's comments.
"The Denmark game is very much a game where I've got to think about what experimentations I need," Hodgson said.
"If we take Steven Gerrard, does he need to play against Denmark to prove to me that he needs to play against Italy (in the first match of the World Cup)?
"Would I be better off playing somebody else because I know what Steven Gerrard can do? He's got 103 caps. Could (Wayne) Rooney be in the same category as Gerrard? And Joe Hart too?"
Speaking of Hart, Hodgson is delighted to see his No.1 goalkeeper back in regular action with Manchester City, and in good form to boot.
He added: "I'm very pleased for him. He made a couple of mistakes in games, his coach decided to leave him out, but luckily he's come back and played well.
"It will be nice if we can get a situation where some of the younger ones can win a few trophies too, and I suppose Joe would come into that category. As a goalkeeper at 26, he's got a good 10 years ahead of him.
"He's got a league winner's medal, he could get a League Cup winner's medal, and he's still in the FA Cup. He might get a medal there as well, he might even get another league medal, and all that won't do him any harm, that's for sure."
Daniel Sturridge, despite only having nine caps, is another player Hodgson looks like relying on in Brazil this summer if he can stay in the goalscoring form he has shown for Liverpool this season.
Hodgson is keeping his fingers crossed Sturridge's past troubles with injuries are behind him because of his almost limitless talent.
"He is a great talent," Hodgson said. "If he remains fit and able, I'm confident he will produce.
"Since he's gone to Liverpool, he's done very, very well, but quite often when we've had matches we've been unlucky he's not been available through injury.
"In my 25 games, Daniel hasn't featured anywhere near as often as I would like. Now, I'm hoping, in the next 25, he's going to feature a lot.
"He should be looking at his 50 caps and when he has his 50 look at a hundred because he's got the talent to play up.
"I think that it's exceptional the way he's been playing this year and now it's incumbent upon him really that he does that also in an English shirt."