International news: Ashley Cole and Luke Shaw battle to join Leighton Baines in England World Cup squad
Leighton Baines is set to sit out England's friendly with Denmark, giving Ashley Cole and Luke Shaw a chance to impress.
Last Updated: 05/03/14 8:23am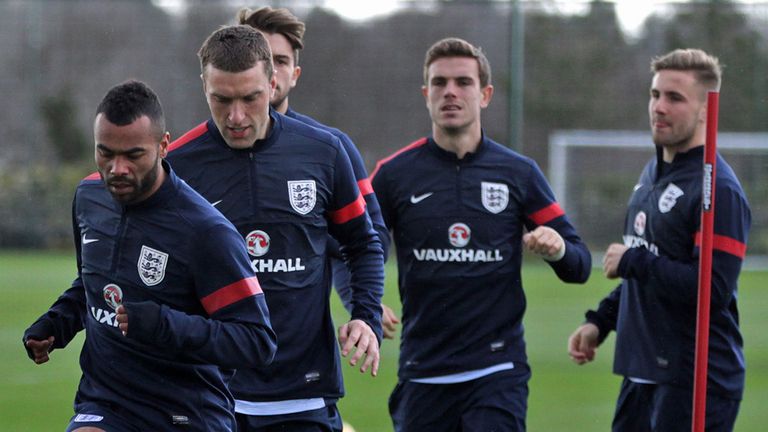 The Danes' visit to Wembley on Wednesday night marks the final friendly before England manager Roy Hodgson selects his squad to take to the World Cup in Brazil this summer.
Of the 23 men going to to the finals, there will only be two left-backs, and Hodgson's admission that he does not need to look at Baines suggests the Everton defender is almost certain to go to the tournament.
That leaves Cole and Shaw vying for the final position in the squad.
"I've spoken to Leighton and he won't feature tomorrow, unless we get an incredible number of injuries," said Hodgson.
"All three of them want to play but even with substitutions, I can't fit in three left-backs.
"It's the right moment in this game to look at one of or both Luke and Ashley Cole, as Leighton has been playing regularly for us.
"The two I need to look at in an England shirt are Ashley and Luke."
Cole will win his 107th cap, while Shaw will be making his senior international debut.
The Chelsea defender, 33, has the benefit of experience but has made just 12 Premier League starts this term, and only two of them have come since the turn of the year.
Meanwhile, his Southampton rival, who will not turn 19 until after the tournament, is regarded as one of the most promising players in English football.
Hodgson says he is not about to give up on Cole just yet.
"Knowing Ashley as I do," said Hodgson, "I'm pretty certain he is working every day to show Jose Mourinho he is making the right choice.
"If he doesn't get back in the team, it is not going to change my opinion on Ashley Cole.
"I know what he can do, 106 caps for England says everything. It would quite simply be a choice at the end."
England captain Steven Gerrard has played alongside Cole in the international set-up for over a decade and he is sure the full-back will not give his place up without a fight.
"If you're a winner, you want to play so I'm sure Ashley is frustrated, but he's working to get back in the Chelsea team," the Liverpool midfielder said.
"He's never let the country down and has always been a very consistent player. Watching him the last couple of days I didn't see any problems with his fitness, and that's when he's not been playing."
Hodgson has also hinted that he could experiment with new formations, even though England lost both their November home friendlies to Chile and Germany when he last tinkered with the team and shape.
No England manager has ever lost three home games in a row, but Hodgson - who is expected to also field Raheem Sterling, Jordan Henderson and Adam Lallana on Wednesday - is not overly concerned by that.
"We don't want to lose games at Wembley, but (this game) won't decide whether we win the World Cup or we don't," he said.
"This is our last game before the World Cup so I'm hoping we won't lose, but I can't elevate it to the importance of the World Cup.
"If it so happened that we did lose, but I learnt some very important lessons that prevented a major mistake when I named the 23, it could be a benefit in disguise."
Kyle Walker will miss the game against the Danes, which will be preceded by a minute's applause in the memory of former England player Sir Tom Finney, who died on February 14.
Former Denmark coach Richard Moller Nielsen, who also died last month, will also be remembered before kick-off.