Everton's Leighton Baines says Ross Barkley will fulfil his potential in time
Leighton Baines wants Ross Barkley to be given time to fulfil his potential with Everton and England.
Last Updated: 19/03/14 12:53pm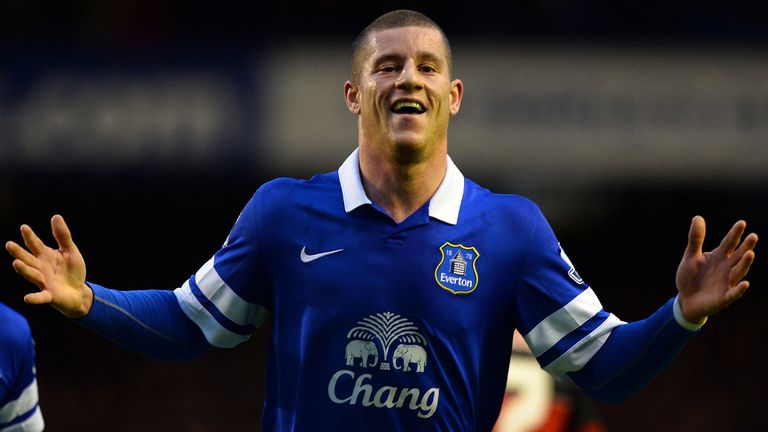 Barkley, 20, burst on the scene for Everton earlier this season with players and pundits hailing the youngster as a future star of the Premier League and international game.
However, he has endured a testing second half of the season with his club. Since returning from a toe injury in January, Barkley's influence has waned and he has played in just four of Everton's last eight matches.
Barkley had appeared on course to go to the World Cup in Brazil this summer with England, after winning three caps in the last seven months, but is now fighting for a place in Roy Hodgson's squad.
Baines, though, believes his Everton team-mate will go on to become a top player for club and country, and should be given time and space to fulfil his potential.
"I didn't have the same sort of trajectory as what Ross has had," Baines told Sky Sports News. "Mine was a steady growth really and didn't miss out too many steps on the ladder.
"Ross has burst onto the scene and the spotlight was thrust upon him straight away. He is a top player and a top talent for the country.
"We sometimes have a tendency to do that with young players. I think that it is important that we sometimes give them a bit of time and leeway to develop.
"You don't have the consistency levels sometimes in your late teens and early 20s, you are still a really young player. You just need to give them time to develop.
"That is what the manager is doing with Ross. He gets runs of games and then comes out of the side sometimes, not always because of performance but because it is the right time for him and his development."
Barkley's drop in form has mirrored Everton's frustrations in recent months. Their bid to claim a top-four finish in the Premier League, and with it Champions League football next season, has subsided.
They are now in sixth place and nine points adrift of fourth place Manchester City. Baines blamed their inability to capitalise on strong performances, especially away from home, for the downturn.
Fine margins
But the England left-back is optimistic they can rediscover their best form and surge up the table.
"The last month or so we have not picked up points where we deserved to, particularly in a couple of the games away from home when we played well," he said.
"Against Tottenham and then we played quite well at Chelsea and then had nothing to show for it at the end.
"It is just those fine margins really and I think that not getting the goals when we have been on top and keeping possession. You need to find a way of scoring goals. It is something that we are working on so we will get better.
"There are still plenty of points to play for so although we have not set out any targets, we just want to try to have a good run now and get back on form; to win a few games and get as many points on the board as possible.
"Tottenham, who are above us at the moment, are our immediate target and then see where we can go from there."