Swiss role models
Sky Sports speaks to former Tottenham defender Ramon Vega about Switzerland's rise to prominence ahead of the 2014 World Cup...
By Pete Hall - Follow me on Twitter @PeteHall86
Last Updated: 21/03/14 9:31am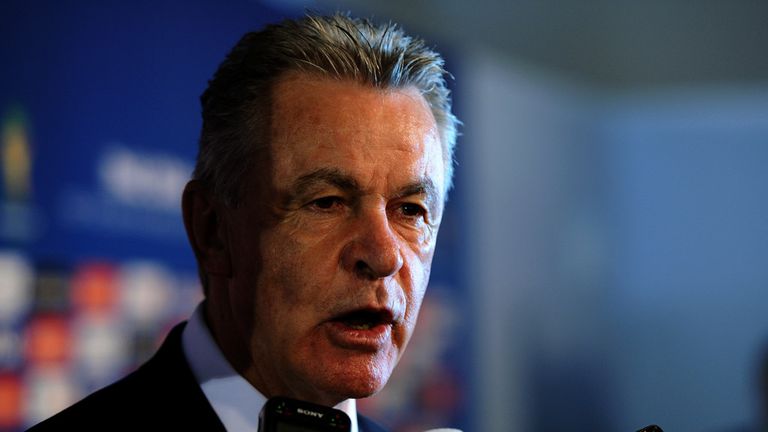 In a World Cup year, experts and fans alike all have their own opinion of who is going to be the tournament's surprise package.
Belgium have been labelled with such a tag for so long that they travel to Brazil expected to do well, and anything else would be seen as a failure.
Colombia were touted by many as having the capability to defeat more fancied opponents, but probably face a tournament without their star striker, Radamel Falcao.
Chile have been mentioned due to their attacking brand of football and African champions Nigeria seem set to prosper in Brazil.
However, with a favourable group draw, an experienced coach who has his sights on one last triumph before retiring and a vibrant, young squad at his disposal, Switzerland could very well turn more than a few heads in Brazil this summer.
Former Tottenham Hotspur defender Ramon Vega played under coach Ottmar Hitzfeld at Grasshoppers and knows what the experienced manager will bring. A veteran from Switzerland's Euro '96 side, Vega has high hopes for his country's chances in Brazil and told Sky Sports that the Swiss project has been a long time in the making.
"Hitzfeld has been their six years, and the organisation he has implemented from top to bottom has helped Switzerland get where they are," Vega explained.
"It has been 10 or 15 years in the making. For a small country like we are, our achievements are remarkable, and they have put themselves in a very good position for the group stages."
Hitzfeld's side cruised through qualification for this summer's showpiece, finishing unbeaten, conceding just six goals in the process.
After being handed the negotiable trio of France, Honduras and Ecuador in their World Cup group, Switzerland have every chance of reaching their first competitive quarter-final since 1954 and have taken huge strides.
However, it would be churlish to ignore the fact that their qualification group could not have been much kinder with Iceland, ranked 52nd in the world, their closest challengers.
Eyebrows were raised when FIFA announced their latest rankings, meaning Switzerland would be guaranteed to be seeded for the World Cup draw at the expense of Italy and would avoid the other big guns.
So just how is it possible for a team that failed to get out of the group stage at the 2010 World Cup, or qualify for Euro 2012, to be considered one of the top seven nations in the world?
A mixture of poor opponents, lack of friendlies and others faltering have seen Hitzfeld's men break the world's top 10 for the first time in almost 20 years and improved their chances in Brazil.
Yet, this is not to say that central Europeans are not a talented bunch and after years in the international wilderness Vega feels a little bit of luck has been long overdue.
"People think that it is not fair, but why not? Since we qualified in 1994 we have qualified for most tournaments and, compared to larger nations, we have done very well," he said.
"Our club game is much better, too. Look at FC Basel. They have beaten the likes of Chelsea and Manchester United in the last few years, and our other players are playing at top European teams like Bayern Munich and Juventus."
Vega is correct in saying that Switzerland's lofty position amongst international football's elite cannot be completely dismissed as just good fortune.
La Nati caused a major upset by winning the 2009 Under 17 World Cup, with several key figures in that team playing a major role for the seniors today.
Pacey full-back Ricardo Rodriguez, playmaker Granit Xhaka, Real Sociedad hitman Haris Seferovic and Fulham's impressive youngster, Pajtim Kasami, all excelled in the tournament in Nigeria and have the attributes to attract much attention in Latin America.
Bayern Munich's Xherdan Shaqiri has alerted suitors around Europe and his energy and enthusiasm epitomise what the Swiss side are all about.
Goals have been a problem, but in Arsenal target Josep Drmic, who netted twice against the country of his birth, Croatia, in a recent friendly, Hitzfeld may have the final piece to his well-considered puzzle.
Vega credits the Swiss attitude to youth development as the reason for their recent rise and thinks several more populous nations, including England, could learn a thing or two from their tried and tested model.
"We have one of the top systems in the world now, which showed with the U17 World Cup victory," Vega proclaimed.
"Other nations, like England, with so much support for football at youth level, could really learn from us and introduce a platform to bring these talented players through. We still produce quality from a small pool available."
Hitzfeld has been at the helm of the Swiss side for six years - a surprising fact having managed a host of top clubs. Success has followed Der General wherever he has been and he can boast the proud record of being one of only four managers to win the European Cup / UEFA Champions League with two different clubs.
"Knowing him, he has done well wherever he has managed. At Grasshoppers, we did extremely well with him, winning four or five trophies, and having him as manager of the national team knowing what mentality Swiss players have, it has been a huge success," Vega reminisced.
"The overall tactics and system of the national team has improved a lot over the last 10 years and Hitzfeld's organisation and work-rate that he instils have been a huge part of that."
Vega is right, a man of Hitzfeld's experience will have a plan and, complete with an arsenal of hungry players, eager to excel, looking beyond a rare quarter-final appearance could see years of hard planning produce deserved rewards.