Premier League: Paul Lambert says Fabian Delph can win a place in England's World Cup squad
Fabian Delph can earn a shock call up to England's World Cup squad, according to his Aston Villa manager Paul Lambert.
Last Updated: 26/03/14 8:06pm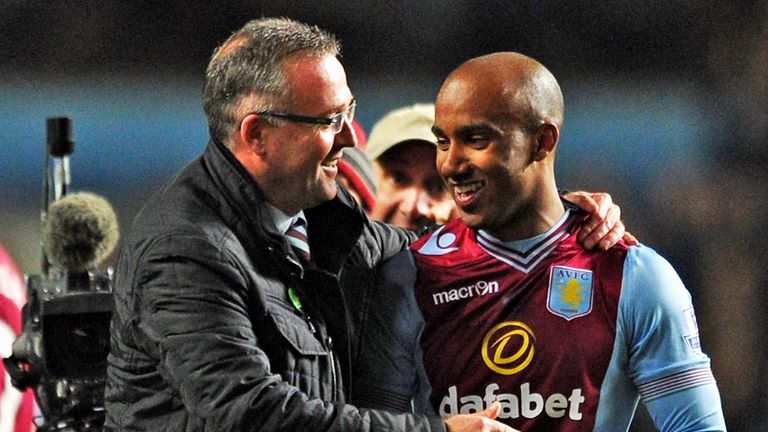 The 24-year-old has been in superb form, scoring four goals, including the winner in Sunday's sensational 1-0 victory over leaders Chelsea.
It remains unlikely that Delph will get a call-up from Roy Hodgson, but Lambert insists the midfielder would be an asset if a punt was taken.
"If England did call him in or give him a chance he wouldn't let anybody down, but that's up to the England manager to assess," said Lambert.
"I always think there's one surprise in there somewhere (with regard to the World Cup squad). Whether it's Fabian or someone else, I don't know.
"At the minute he's playing really well for us, which is my main concern."
Villa fans are finally seeing what all the fuss was about back in 2009 when the 24-year-old was signed by Martin O'Neill from Leeds for £6.5million.
Injuries over the years have not helped Delph's cause, although a lack consistency has primarily been his downfall - until this season.
Lambert, however, is convinced Delph will only improve, adding: "I can only speak from my time here and he's done fantastic for us, he really has.
"He's obviously had really bad injuries that have stopped him from progressing quicker, but he's only a young lad and people forget that.
"At this minute in time he's playing extremely well, but he's got his whole career in front of him, so I don't think we'll see the best of him until his mid-to-late 20s."
When O'Neill signed Delph five years ago he claimed the then teenager would go on to become an England international, only for the injuries to hold him back.
Experience
The one downside to Delph's game is his apparent lack of caution when he goes in for a tackle, not only picking up injuries, but also eight yellow cards this season.
Despite that, Lambert said: "I don't think you'll curtail the way he plays the game. That's him.
"But then I don't think there's any doubt he'll learn when to go to ground and when not to, but that'll come with the more games he plays and the more experience he gains."
Asked whether such a trait could deter Hodgson from selecting Delph, if not this summer then at some point in the future, Lambert added: "No, I don't see that as a risk."
After the win over Chelsea, Villa's next challenge is against Stoke on Sunday, with the club aiming to win three successive home league matches for the first time in seven years.
Standards
Given Villa's earlier wretched home form throughout Lambert's time in charge and Stoke's horrific away record of one win in 15 games on the road this season, for once Villa will start a game as favourites in front of their own fans.
Lambert knows with that comes a certain expectation as he said: "It's a totally different game now from Chelsea.
"Everybody will think we'll beat Stoke, but this league is so tough, with every game hard no matter whether it's home or away.
"If we're not at it, it's going to be a hard game, and if we fall below our level then we could be in trouble so we have to maintain our standards if we are to win this game."
Watch Aston Villa v Stoke live on Sky Sports 1 at 4pm on Sunday