World Cup: England boss Roy Hodgson sees Andrea Pirlo as Italy's key threat
Roy Hodgson admits Andrea Pirlo is the main threat when England take on Italy in their World Cup opener in Brazil.
Last Updated: 18/04/14 10:10am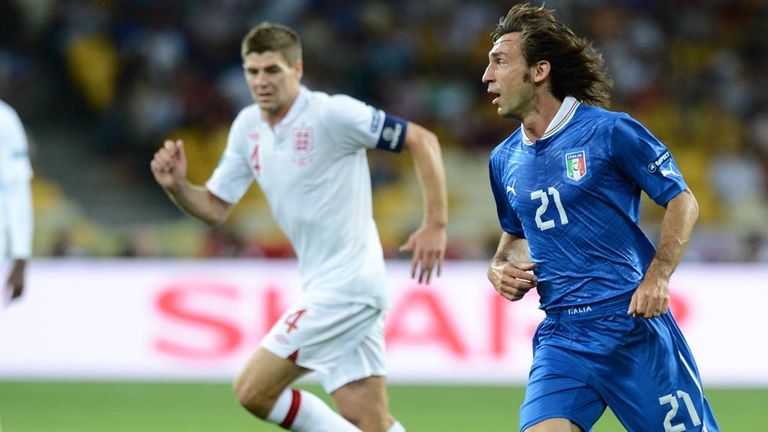 The Three Lions kick off their Group D campaign against the Azzurri on June 14 in the hot and humid conditions of Manaus, before clashes with Uruguay and Costa Rica.
Among the stars set to line up for Italy will be former Manchester City forward Mario Balotelli, but Hodgson believes Pirlo, who was part of the team which won the World Cup in 2006, is the player they most have to respect.
Asked if he would made special plans to combat Balotelli, former Inter Milan boss Hodgson told Mediaset: "Do we fear him? I know him because he played in England. We have respect for everyone but if I have to give a name, I say Pirlo.
"In the last 10 years, he has made Italy play. I had him three months at Inter and he has had an incredible career."
Italy knocked England out of Euro 2012 on penalties on the way to the final and qualified for the World Cup unbeaten under coach Cesare Prandelli.
Winning mentality
While Hodgson admits it will be tough, the England boss is taking a winning mentality into the clash.
"Italy are very strong," he admitted. "Prandelli has done a great job in the last four years and I believe the Italian team has grown during this time.
"But are England defeated before we start the World Cup? Perhaps that's how people in Italy see us but the game has to be played and then we shall see. I never think of being defeated before a game, I always think of winning."
The England boss believes no team will have a special advantage in the testing conditions of the Amazon city of Manaus.
"We will do like any other team that will play in Manaus, which has a special climate," he said.
"We are doing everything possible to prepare the players in order to deal with these conditions.
"It's not the best situation for us but neither is it for Italy. I don't think right now this even represents an advantage for any South American side."