Euro 2020: England, Wales, Scotland and Republic of Ireland submit host city bids
England, Wales, Scotland and Republic of Ireland submit bids to host Euro 2020 matches.
Last Updated: 25/04/14 7:36pm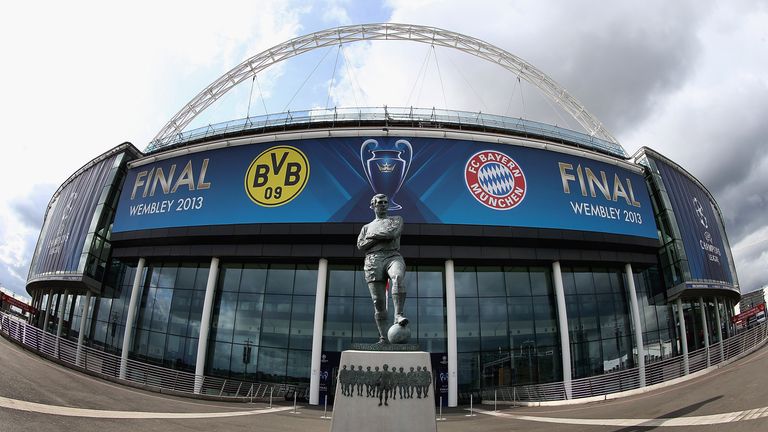 The English bid has been submitted by the FA to UEFA ahead of a midnight deadline on Friday, and bids for group matches have also been submitted by Wales, Scotland and the Republic of Ireland.
UEFA will announce the 13 host cities at a ceremony in Geneva on September 19 and there could be up to 30 bids for either a package of three group games and a knock-out match, or the package of final matches.
It is the first time the tournament will have been held across Europe, and it is being done in order to celebrate the 60th anniversary of the European Championship.
FA general secretary Alex Horne said: "We are bidding for either of the two packages available and with our recent experience of hosting two UEFA Champions League finals in the last four years we believe that Wembley Stadium and London represent a strong bid for UEFA to consider to mark the tournament's 60th anniversary.
"We recognise UEFA is considering many strong bids from a number of candidate cities and we welcome the opportunity to put forward our bid."
Turkey were reportedly the favourites to win the right to stage the climax of the tournament - the semi-finals and finals - in Istanbul, but they have pulled out of the bidding to concentrate on hosting Euro 2024.
The Turkish FA announced its U-turn on bidding, saying in a statement: "We will soon have the 13 stadiums that meet the capacity criteria of the Euros, which means Turkey is in a position to host the whole tournament on its own with its communication infrastructure, travelling and accommodation opportunities and, above all, passion for football.
"For this reason, our board of directors has decided not to bid for the semi-final and final games of Euro 2020, and to start work on a bid for Euro 2024."
The Football Association of Wales has submitted a bid to UEFA for Cardiff to be chosen as one of the host cities.
The 74,154-capacity Millennium Stadium in Cardiff is at the heart of the FAW's bid to secure a package of matches consisting of three group games plus either a last-16 or a quarter-final match.
"We believe that we have a strong and compelling proposition," said FAW chief executive Jonathan Ford.
"The Millennium Stadium, with a capacity of almost 75,000 as well as 100 hospitality boxes, would generate a significant financial contribution for UEFA."
Wales international and Real Madrid star Gareth Bale said: "This could be the beginning of a great period for Welsh international football.
"I believe we have a real opportunity of qualifying for the 2016 European Championship finals in France.
"It would then be an unbelievable experience to play in the 2020 European Championship finals in my home city of Cardiff.
"I have been fortunate to play in some of the world's greatest stadia but nothing matches the atmosphere and passion generated by the Millennium Stadium.
"These are exciting times for Welsh football and I'm really proud to offer my full support to the FAW's UEFA EURO 2020 bid."
Ireland are putting forward Dublin to host group matches, while the Scottish FA's bid, which was launched on Thursday, centres on Hampden Park in Glasgow.
UEFA has asked all bidding cities to provide detailed files including information on stadiums, transport, hotels, airports, fan zones and government guarantees.
A number of the 32 countries who initially registered an interest have dropped out of the running, including France, Portugal, Switzerland, Poland and the Czech Republic.