European Championship: Wembley or Munich to stage final in 2020
England will go head-to-head with Germany for the right to host the final and semi-finals of Euro 2020.
Last Updated: 26/04/14 12:27pm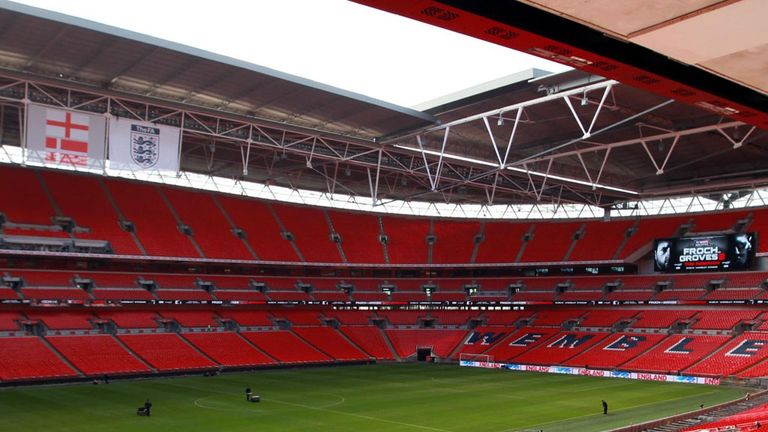 Although 19 countries have made bids to stage matches during the latter stages of the tournament in six years' time, only two have opted to host the competition's finale.
If England get the go-ahead from European football's governing - which will announce its decision on September 19 - all three matches will be played at Wembley Stadium.
The German bid has nominated Munich's Allianz Arena.
Istanbul had been favourite to get the three-match package until Turkey's Football Federation withdrew its bid on Friday.
Turkey will now focus on trying to secure the rights to host the Euro 2024 final tournament on their own.
As for Euro 2020, 12 other separate packages are up for grabs, which include three group matches and one knock-out game.
London, Glasgow and Cardiff are among 19 cities who have bid to host matches earlier in the tournament.
Dublin has also bid to host early matches, along with Bilbao, Rome, Munich, Stockholm, St Petersburg, Amsterdam, Brussels, Copenhagen, Jerusalem, Sofia, Bucharest, Budapest, Baku, Minsk and Skopje.
Regarding the requirements for the 13 European cities hoping to stage matches, UEFA agreed on the following regulations: Minimum stadium capacity for the final and semi-finals must be 70,000. This is reduced to 60,000 for the quarter-finals, 50,000 for round of 16 and group matches, although there will be two exceptions for stadia whose capacity is only 30,000.
The 24-team tournament will celebrate the 60th anniversary of the championship which was originally called the European Nations Cup.
The first winners of the competition were the Soviet Union in 1960, when the final stages were held in France.
On the only previous occasion in which England staged the Euro finals - in 1996 - they reached the last four only to lose on penalties to eventual champions Germany.
"We are extremely happy to have received so many bids to host UEFA Euro 2020," said UEFA president Michel Platini.
"The 60th year anniversary edition of the tournament will be an historic one, with matches played in many European countries.
"By spreading the Euro across our continent, we will allow more fans from more nations to share in the excitement of hosting such a magical event.
"Member associations will also benefit greatly from this format, since more of them will be exposed to an elite tournament and have the opportunity to increase the development of football in their respective countries. I wish all the candidates the best of luck in this bidding process."